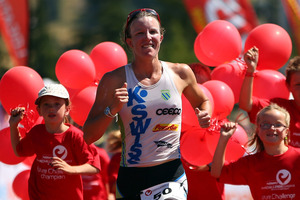 The race for the Ironman New Zealand women's title is likely to be a straight duel between American Meredith Kessler and New Zealander Gina Crawford - and the run section will be crucial.
Kessler won last year's weather-shortened race in Taupo and is back to defend her title in what are likely to be much better weather conditions tomorrow.
The 35-year-old is one of the most in-form triathletes around, recording three international victories in the past year and taking top seed for the Kellogg's Nutri-Grain sponsored race.
Crawford comes into the race with a victory in the Challenge Wanaka race - her sixth in a row - and was fifth in Taupo last year. She won Ironman New Zealand in 2009, edging fellow Kiwi Joanna Lawn by five minutes.
She credits a smarter training regime after the birth of her son Benjamin in 2011 with some good recent results.
The mental side of things appears to be a theme, with Kessler insisting the gruelling Ironman race is a "puzzle" which must be solved.
Too often in the past she has been run down in the final 10km to give up the win. A new training regime could fix that, she hopes.
"I've been working a lot on the run, especially the back half, this winter, so I don't blow like a champagne cork-situation," she said. "I'm looking forward to trying to put it all together. That's been the focus. It's no secret, I've been in four races at 30km and I've been passed for the win."
The first and second placings could be all but sealed after the 3.8km swim section, with both Kessler and Crawford experts in the water.
"It would be great to swim with Gina because she is amazing and it would be nice to build up some time on everyone else on the bike course because it's a power bike [leg] and just hang on for dear life on the run," Kessler, from San Francisco, said.
Crawford, who has moved her base from Christchurch to Wanaka, said her training had changed after Benjamin's birth, which had improved her performances.
"I think I used to over-train," the 32-year-old said. I was always trying to put in big hours because I thought was what it took to be an Ironman athlete, but now my philosophy is a bit different because I like to spend as much time with Benji as I can.
"I do just 20 hours a week now, which is 10 hours less than before. I've been turning up a lot fresher."
In the men's race, Cameron Brown is the No1 seed, with Terenzo Bozzone seeded second, a familiar position for him. Three times he has finished second behind the 10-time winner.
Bozzone said he had fully recovered from the bad crash he was involved in before the Ironman Auckland 70.3 event in January. Bozzone rode into a car door which was suddenly opened, the North Shore athlete injuring his legs and breaking his bike forks and wheels.
"Cameron is the man out here [Taupo]," Bozzone said. "I swim with him nearly every day and you always know when Ironman NZ is near because that's when he's in top form."
***********
Ironman NZ, Taupo, tomorrow
3.8km swim, 180km cycle, 42.2km run
- APNZ