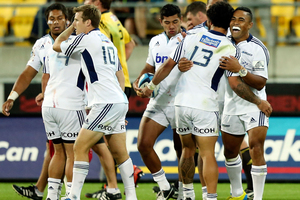 The Blues are being lined up to play France in a midweek game during the Super 15 recess in June.
NZRU chief executive Steve Tew confirmed a range of issues about the gate proceeds and player payments still had to be resolved but France were keen to take up the NZRU offer.
The match is likely to be played at North Harbour Stadium on June 11 following the tourists opening test against the All Blacks at Eden Park four days earlier.
"We wanted to offer them a game and it was up to them if they had any interest," Tew said.
"The change of heart was theirs not ours."
It made sense for France to play the Blues because the tourists wanted an extra match in Auckland, the Super 15 was in recess and the ITM Cup series had not started.
The NZRU has reviewed the All Backs season under Steve Hansen's command and was starting to consider a range of issues looking at the next World Cup in 2015.
However it was still too early to firm up any details about the coaches' contracts.
Former test wing Zac Guildford was still receiving treatment for his drinking addiction and the NZRU would not get involved until he had finished that course.
The NZRU had achieved a financial result that was "significantly better" than they had budgeted for in 2012. That seven figure surplus had been boosted by the new sponsorship from AIG but others areas had also been ahead of budget.
Tew said the NZRU had settled in well at headquarters in Molesworth St, Wellington after leaving their earthquake risk previous site down by the Harbour.