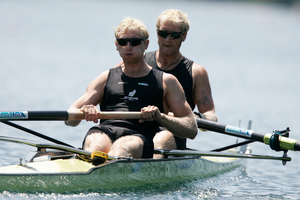 Former Australian head coach Noel Donaldson has been appointed as the men's sweep lead coach at Rowing New Zealand in the wake of Dick Tonks' decision to relinquish the head coach's role and focus on the women's programme.
Tonks built an impressive CV as New Zealand head coach, personally overseeing five Olympic gold medals playing a large hand in the 45 Olympic or world championship medals (23 gold, eight silver, 14 bronze) New Zealand rowers have won since the 2004 Athens Games but didn't want to lead the overall programme.
Rowing New Zealand have implemented a new coaching structure, with Calvin Ferguson to oversee men's sculling, Donaldson the men's sweep lead coach and Tonks women's lead coach. Donaldson will look after the men's pairs (Hamish Bond and Eric Murray) as well as the fours and eights.
His appointment comes just days before the trials to select the New Zealand rowing team to compete in the Sydney World Cup and Donaldson will arrive in New Zealand in time for the trials.
The 57-year-old coached Australia's Oarsome Foursome (men's coxless four) to back-to-back golds in Barcelona 1992 and Atlanta 1996 and the men's coxless pair to bronze in Sydney 2000 and he also worked as the elite development manager for the emerging talent age groups of under-21 and under-23.
As Australian head coach in Athens in 2004, he guided the squad to one gold, one silver and one bronze medal. Donaldson was also Rowing Australia high performance director from 2004 to 2008 and until recently has been Rowing Australia head coach.
"Noel is going to be a huge asset for Rowing New Zealand,'' Rowing New Zealand's high performance Manager Alan Cotter said. "He has a wealth of rowing experience in various coaching roles, including being part of multiple medal winning teams at world championships and Olympic Games.
"We were looking for someone who had achieved results as a head coach in sweep oar boats, had worked successfully in a high performance programme, had the ability to develop, lead and maintain a strong team culture - and Noel has all of these attributes.''
- APNZ