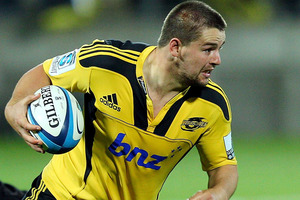 Dane Coles became All Black 1117 on last year's end-of-year tour but doesn't pretend to think he has arrived as an international player.
The 26-year-old was picked as the third hooker for the tour of the UK and Italy, coming off the bench in all four tests, on the back of an impressive season with the Hurricanes and Wellington.
He is quick, a good ball-runner and handy defender and will need recapture his form of 2012 to have a chance to pull on the black jersey again.
"It was the greatest experience of my life," he said of the All Blacks tour. "Everything I had ever done was to get to that moment and the chance to put the jersey on was a day I will never forget.
"Just getting a taste of it, I want to get back there again. I don't really think too far ahead - I take it week-to-week - because I'm not a good enough player to do that. If I do, I'm going to trip myself up. I just want to have a good season with the 'Canes and, if I'm playing consistent footy, things will take care of themselves."
It's why he returned to pre-season training earlier than he needed. As an All Black tourist, he was entitled to stay off until January 30 but returned to the training ground in the second week of January.
He also spent considerable time in the gym. Coles is not huge by hooker standards (he's listed as 1.84m and 108kg) and there are still concerns about his scrummaging. It's why the All Blacks coaches advised him to hit the weights.
"I'm not going to get too much bigger but perhaps a bit stronger in the gym," he said. "If I can get that 1-2 per cent, it will help me. I have never been the biggest guy, so I have always had to step up and play against the big boys."
It's what the Hurricanes did as a unit last year, when they confounded pessimistic pre-season predictions to narrowly miss out on a place in the playoffs, and an attitude that would serve them well again.
They were tipped up 34-20 last weekend by a Blues side who are trying to rebuild after last year's dreadful campaign but have the chance to atone against the Reds in Brisbane on Friday night.
"It was a bit gutting," Coles said of the defeat. "We obviously knew what the Blues situation was because we were in the same situation last year. We let ourselves down.
"Everyone now knows we can play good footy so it's like we have a target on our backs. We need to embrace that pressure, not hide from it. We need to play good rugby and give it 100 per cent because if we don't we are going to have a bad year. The boys know what they have to do."
They are buoyed by the fact skipper Conrad Smith is available after picking up a head knock late against the Blues and coach Mark Hammett has made only one change to the starting XV, with Jeffery Toomaga-Allen coming in at tighthead prop for Ben May.
The Reds lost their opener to the Brumbies in Canberra but responded with a 25-17 victory over the Waratahs last weekend.
- APNZ