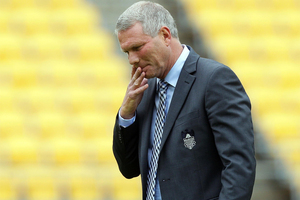 It was telling New Zealand Football released a statement saying they "welcomed" Ricki Herbert's decision to resign as Wellington Phoenix coach so he could focus on the All Whites' World Cup campaign.
There have been many who have opined it was unsustainable for Herbert to do justice to both jobs - and he was also advisor to the Olympic team - and this year looms as critical in the All Whites' quest to qualify for consecutive World Cups.
A win over New Caledonia in Dunedin on March 22 will see them progress to November's intercontinental playoff against the fourth-best side from North and Central America for a place at next year's World Cup in Brazil.
New Zealand Football (NZF) conducted a review after the Horror of Honiara, when the All Whites finished third at June's Oceania Nations Cup in the Solomon Islands, and found there were three major failings - scouting, tactical implementation and adapting to conditions.
One of those was uncontrollable (the heat and humidity) but the other two could be improved and Herbert will now be able to devote his full attention to the national side.
Next week he will name his squad to take on New Caledonia and the Solomon Island and there is even some thought now to send him to some World Cup qualifiers in Central America to scout potential opposition sides.
"Ricki has done a tremendous job with the Wellington Phoenix over the years, but the opportunity that presents itself to New Zealand Football is that he will be able to focus on the All Whites campaign," NZF chief executive Grant McKavanagh said.
NZF know only too well how important qualifying for major tournaments is outside other benefits like public interest and playing numbers. The national body picked up US$10 million for qualifying for the 2010 World Cup (40 per cent went to players) but then missed out on US$1 million for failing to win the Oceania Nations Cup and qualifying for this year's Confederations Cup.
Herbert has said he will step aside as All Whites coach after the present campaign, whether that's March, November or next July. He already occupies a special place in New Zealand football history for guiding the team to the last World Cup but will enhance his legacy if he can do it a second time.
He will leave the Phoenix with a mixed report card, however. He did well to set up the club and then establish a record unbeaten streak at home and three consecutive playoffs appearances, even amid the turbulent Terry Serepisos years, but his time had come to an end.
Wellington were supposed to be contenders this season but, in truth, they have been left behind. The A-League has improved but the Phoenix have not and Herbert took them as far as he could.
Results were unsustainable and he did, as club chief executive David Dome said, what he felt was the "right thing for the club". It's unlikely, however, Herbert would have survived an end-of-season review.
Chris Greenacre will take over until the end of the season, starting with tomorrow's visit of Newcastle, and they now have five games to try to salvage something out of the season.
"In the next six weeks we have to eat, breathe and sleep this football club," Greenacre told the players this morning. "Other than your families, this is the most important thing in your lives."
Captain Andrew Durante who, like the rest of the players, found out about Herbert's resignation through the media, said he had the "full support" of players during his time as coach and his resignation was "another hurdle" in what has been a challenging year.
It's understood internationals at the Phoenix are looking forward to getting into All Whites camp soon and away from disruptive elements like co-owner Gareth Morgan and his clipboard.
Herbert will be looking forward to it, too.
- APNZ