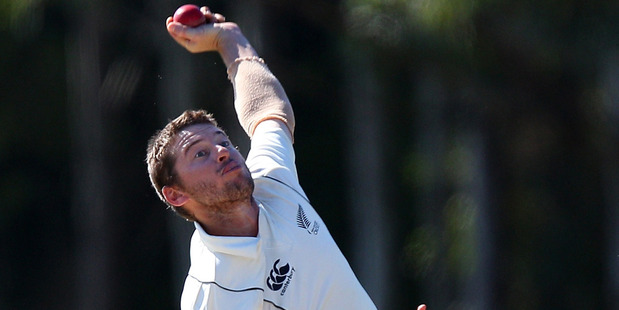 For the second time in a couple of months, Bruce Martin is hoping to end 14 seasons of striving to play test cricket.
The Auckland left arm spinner is the specialist slow bowler chosen for the opening test against England, to start at Dunedin's University Oval on March 6.
In South Africa last month he missed selection behind Jeetan Patel for the second test at Port Elizabeth. Now Patel is gone and that elusive test cap is within reach. The only hiccup would be if New Zealand opt for a four-seamer attack.
Martin was 12th man at 19 against Australia in his first domestic season in 2000 but that's the closest he's come to the national side. Now operating in a more attacking vein, he's taken 94 Plunket Shield wickets at 35 runs each in the last three seasons.
"I always felt I had a good chance," Martin said yesterday. "I've been toiling away, bowling pretty well for those last three years. It's a tough gig bowling spin in New Zealand."
He knows University Oval isn't the most spin-friendly pitch around. Patience is important, however Martin doesn't fall short in the enthusiasm department. Dunedin can't come soon enough.
"Can't wait, mate. To get that first opportunity will be top drawer."
Whether Martin plays the first two Ford Trophy 50-over rounds against Canterbury tomorrow and ND on Thursday will depend on talks with New Zealand coach Mike Hesson and Auckland's coach Matt Horne.
"I want to keep the red ball stuff going because it's coming out well.
"It would be nice to chill out a bit, and get mentally and physically right for a full-on battle, which is going to be fun."
Martin's attitude towards tackling the top-class batsmen such as Kevin Pietersen, captain Alastair Cook and Jonathan Trott is overwhelmingly positive.
"If you get a couple of those out you'll be sure you've earned the poles [wickets]. I've been waiting for a while so I'm going to rip in and give it everything I've got."