Pukekohe track upgrade focused on V8s and motorcycle racers feel left out.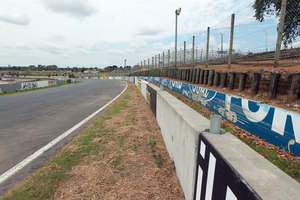 Motorcycle fans say racing at Pukekohe Raceway is under threat because of changes to the track to suit the V8 Supercars.
The raceway is almost three months into a $6.6 million upgrade ahead of the return of the V8 Supercar event in April.
But Auckland Motorcycle Club president Graham Bastow said the decision to place concrete barriers immediately next to the track on the turn known as the mountain bend had stunned members.
Club members had even considered seeking a court injunction against the barriers.
"You can reach 200km/h and, if you fall, you need a long run-off," Bastow said.
"There are already people who won't race at Pukekohe because of that hill. It's extremely worrying for us."
V8 officials say the barriers are removable, but the track owners are not commenting on whether they will do that.
A meeting next month will decide if a late compromise can be reached.
Bastow said the club had a long history at the raceway.
"I know Hampton Downs is down the road, but the association we have with Pukekohe is huge.
"Many of our people have grown up going there. We're just a little motorcycle club trying to do battle with the big V8s. We really do feel like a grain of sand at the beach."
Bastow said his club raised concerns about the barriers with Counties Racing operations manager Greg Mitchell in December.
Mitchell said Counties Racing wanted motorcycle events to continue at Pukekohe but would not comment further.
Motorcycle races account for about 10 per cent of the meets at Pukekohe.
V8s event manager Greg Mosen said the changes to the raceway were decided by the international federation that governed the sport and were based on safety. "It's not up to us."
However, he said the changes were open to discussion. "Nothing's final. We want everyone to be happy."
Meanwhile, tickets are still available for the April event, but Mosen expected corporate and grandstand tickets to sell out. He tipped a crowd of more than 100,000.