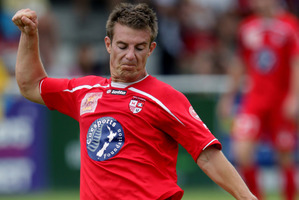 The record for the most points in a regular 14-match season is already won, but Waitakere United coach Paul Marshall wants more.
"There is no thought of resting on our laurels and resting players," said Marshall as his team prepared for tomorrow's last regular season clash with Canterbury United.
"We want to add to our already history-making effort and make it hard for any team to better in the future."
With 37 points - from 12 wins and a draw - after 13 games, Waitakere are already ahead of the 36 they claimed two seasons ago with 12 wins and two losses and equalled by Auckland City last season with 11 wins and three draws.
With that record, City became the first team to go through the regular season unbeaten. Marshall would dearly like to see his team match that.
On the goals front, Waitakere have already raised the bar, scoring 46 goals - better than 3.5 per game - to top the 43-goal record set by City last season.
Canterbury go to Fred Taylor Park in third place, a point ahead of Hawkes Bay United, who are also already assured of their first top four finish.
If Hawkes Bay beat Team Wellington this afternoon the pressure will be on Canterbury to win tomorrow.
Marshall is not concerned about who his team will meet in the semifinals.
"I have no preference whether it is Canterbury or Hawkes Bay. In one way, I would have preferred Auckland City at the semifinal stage as I think over two legs we could do better than in a one-off final where anything can happen," he said.
"I felt our win over Hawkes Bay on Sunday was one of our best three performances of the season.
"I class that with the win we had at home over Auckland City and our 3-1 away win over Canterbury. We will not be too fazed if we have to go back to Christchurch as I feel we played well on the artificial pitch."
With a couple of players still not ready for full-on football, Marshall has again tweaked his line-up.
Tim Myers, back from suspension, will play at right back, allowing Aaron Scott to drop into a defensive midfield role alongside the in-form Jake Butler and Chad Coombes who is also back after suspension.
Roy Krishna is given another week to recover from his hamstring strain, which hands the attacking duties to Luiz Del Monte, Allan Pearce and Ryan de Vries.
An interesting sidelight could provide the spark for Canterbury to chase the goals.
Captain Aaron Clapham has scored a club record 29 goals from 59 appearances - one more than striker Russell Kamo who has played 60 games.
Apart from losing Tom Schwarz to suspension, coach Keith Braithwaite brings a full strength squad north for a battle which, with an earlier kick-off, will be played in the heat of the day.
Auckland City have taken the opportunity to rest some players for their trip to Palmerston North, but will still be keen to claim maximum points and turn in a solid effort a week before the semifinals.
At the other end of the table, Waikato FC host Otago United.
With YoungHeart Manawatu, Waikato and Otago are scrambling to avoid a last-place finish.
ASB Premiership
Waitakere United v Canterbury United
* Fred Taylor Park
* Tomorrow 1pm
* Referee: Nick Waldron
Waikato FC v Otago United
* Centennial Park, Ngaruawahia
* Tomorrow 1pm
* Referee: Peter O'Leary