Unassuming pro trusts it's third time lucky as he attempts to crack big time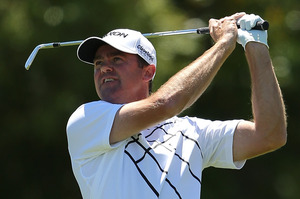 Mark Brown may be New Zealand's most unassuming professional golfer.
Polite, well-spoken and without a huge profile, the Kiwi produced a solid season throughout Australasia last year after losing his European Tour at the end of 2011.
Losing his card marked the end of a four-year stretch where Brown was competitive on the European Tour, including a memorable hot streak in 2008 where he won the SAIL Open and the co-sanctioned Johnnie Walker Classic in consecutive weeks.
His entry to the European Tour in 2008 was part of his second coming as a professional golfer and his third go at cracking the big time is moving in the right direction.
He finished fifth on the Australian PGA Tour's order of merit last year and has already locked up a start at this year's Open Championship at Muirfield in Scotland in July via a qualifying tournament in Melbourne last month.
It hasn't created a heck of a lot of fanfare but you get the impression that doesn't bother Brown, who continues to quietly go about his work.
Brown will play the Australian PGA and OneAsia Tours this year and the latter will give him a few starts in co-sanctioned European Tour events, which could be his ticket back to the show.
One thing he didn't manage last year was a maiden victory at the New Zealand Open after he gave up a three-stroke lead heading into the final round.
A dejected Brown walked off the 18th green at Clearwater last year with frustration written all over his face after his putting let him down as he watched Australian amateur Jake Higginbottom keep his cool on his way to the crown.
Although he eventually signed for fourth place, Brown was still unhappy with the finish.
"You try and move on, obviously," he said. "I've played two or three more tournaments after that so it all moves on pretty quick. But it was bitterly disappointing, I guess. I ... obviously didn't play my best in the last nine holes of that tournament, which was disappointing. But we'll have another chance at it and I look forward to getting another chance to win it."
Brown's next assignment on home soil will come in Queenstown on Thursday when he lines up in the New Zealand PGA Pro-Am Championship at The Hills.
"I said last year it was just a highlight for me to be playing in tournaments here. Because when I was playing in Europe for four and a half years I just never got a chance to come back and play the Open and the PGA. So it'll be nice to be playing, I've got some family coming down for the week so it's always good to play in front of family and the New Zealand public.
"It's not a course that gives you a lot of chances. So there's birdie holes and there's also holes that can bite you. So you've just got to treat them with a bit of respect."
Brown finished second-equal at the New Zealand PGA tournament last year, two strokes behind winner Michael Hendry.
Brown was in Melbourne during the weekend to play the Victorian Open as a tune up for the New Zealand PGA, having spent the past few weeks ironing out a few technical issues with coach Mal Tongue.
The Shandon Golf Club pro said although it was still months away, he was looking forward to the prospect of having another shot at the British Open after he missed the cut on his first attempt in 2009.
Brown will be hoping to get his form on the right track with another strong performance in Queenstown next week.
- APNZ