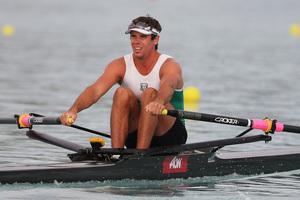 The men's premier single sculls final at the New Zealand rowing championships is shaping as an exciting contest.
Robbie Manson clocked a faster time than Nathan Cohen in his semifinal at Lake Ruataniwha yesterday, making a bid for a place in the squads heading to the World Cups in Sydney, London and Lucerne. They will be joined in tomorrow's final by Robbie's brother Karl, Michael Arms, Fergus Fauvel and Joe Wright.
Olympic and 2012 champion Mahe Drysdale is not racing in the BankLink championships for the first time since 2000 due to his six month sabbatical from the sport.
Drysdale said of the final: "It will be a tight race and Michael Arms will be up there with Nathan and Robbie. My bets will go on Nathan. He will probably win by a whisker, just sneaking his bow ball over the line first."
The first finals race of the day was the women's novice quadruple sculls, won by the Aramoho Wanganui Rowing Club crew of Georgia Nugent-O'Leary (stroke), Sammy Murphy, Rayelynn Wyeth and Savana Gaskell (coxswain) (7:30.30) ahead of Auckland Rowing Club.
The women's premier quadruple sculls was won by Waikato RPC (Julia Edward, Zoe Stevenson, Genevieve Armstrong and Sarah Gray).
The men's club eight was a tight race, with gold going to Hawkes Bay Rowing Club (R. Dodd (stroke), M.Williams, E.Laver, L.Kitchin, H.Boult, M.Vanderpeet, S.Vanderpeet, T.MacKintosh and P.Holt (cox)) in a time of 5:52.09. Silver went to Christ's College and bronze to the Welling-ton composite crew of Petone and Porirua Rowing Clubs.
The women's club eight ended badly for North Shore who were leading with 100m to go when one of their crew caught a crab, dropping the boat to fourth. Timaru Rowing Club took gold, Waihopai silver and Avon bronze.
The men's premier quadruple sculls was won by the favoured Southern RPC crew of Hayden Cohen, Nathan Flannery, Fergus Fauvel and Nathan Cohen. Auckland RPC were second and Joseph Sullivan's Central RPC third.