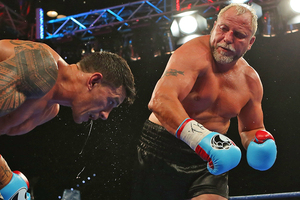 The management of promising New Zealand heavyweight Joseph Parker said it has challenged Frans Botha to a match-up but has been forced to move on after the South African's connections refused to accept it.
David Higgins of Duco Events, an organisation which promotes Parker, said today Botha would have been a good step up for the 21-year-old, who has looked impressive in his three professional fights, all of which have been won by knock out.
Botha recently lost to former All Black Sonny Bill Williams on points amidst farcical scenes in Brisbane.
Higgins and business partner Dean Lonergan were quick to criticise the fight and its controversial aftermath which featured claims of a failed drug test and an attempted bribe, but have clearly also seen the benefits - both commercial and publicity-wise - in attracting the 44-year-old Botha to a bout in New Zealand.
Higgins said Williams' points win which came in 10 rounds instead of the advertised 12, should have been a knockout victory to Botha but for "Khoder Nasser's intervention''.
"We made an attractive offer to Botha's people but they were extremely reticent and were looking for opponents other than Joseph. Then they were non-responsive. It appears they fear Joseph even though he has fought professionally only three times.
"If Botha shies away from Joseph, maybe we should call him the White Pussycat rather than the White Buffalo,'' Higgins added.
Botha, who has 61 fights to his name and has been in the ring (and lost to) such heavyweights as Mike Tyson, Lennox Lewis and Evander Holyfield, is said to be keen on a rematch against Williams in South Africa this year.
Higgins said the hunt was already on for other "big'' overseas names which would mark a new phase in Parker's professional career.
Parker's next fight is next Thursday in Christchurch against 30-year-old Dontay Pati, who, according to respected boxing website boxrec.com, has fought only once - at cruiserweight - for one loss. Parker's last fight, against Richard Tutaki in Auckland in December, was scheduled for six rounds but was stopped a minute into the third.
Parker will also fight in April before his step up in class in May.
Higgins added that May's fight could be sanctioned by both the WBO and WBA in order to boost Parker's reputation and ranking. The latter organisation ran the Williams v Botha fight and came under scrutiny for not having a representative at ringside.
- APNZ