Black Sox preparation for the World Softball Championship leaves coach unperturbed.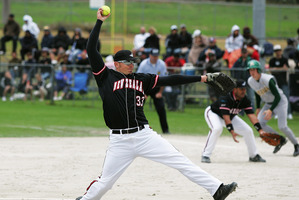 This wasn't how New Zealand men's softball coach Eddie Kohlhase envisaged his team's participation at the Dean Schick tournament ending.
After the Black Sox lost the plate final to club side Ramblers at Rosedale Park on Sunday, Kohlhase could imagine the softball fraternity fretting ahead of next month's World Softball Championship in Auckland.
This was the national team's third loss in as many days, after they also fell to Hutt Valley Dodgers on Saturday to tumble out of tournament contention.
"If I was on the sidelines, I'd be thinking things don't look great, too," Kohlhase said. "Three losses to club teams are not what you expect of a national side.
"But it really has been a valuable opportunity to learn about ourselves. We're not going to roll over teams - we're always going to be in a dogfight.
"And we understand now that every team we play against are going to raise their games because we are the Black Sox."
The players had put in some hard yards during their nine-day camp, training two or three times a day. It's necessary as part of the build-up to next month's world championships, but it doesn't always allow theplayers to produce their best on the diamond.
The pitching rotation is a work in progress and United States-based Jeremy Manley is working his way back to full fitness after surgery.
However, Kohlhase hopes the critics will lay off his team until they see the finished product.
"This is a great team - most of these guys here have won world titles before and know what it takes to get up for the heavyweight fight. We just have to tick off this part of our preparation and move on to the next."
The Black Sox disbanded for a couple of days, but are due to reconvene today, when they'll head north of Auckland for some "alone time". The Championship runs from March 1-10, with New Zealand facing Mexico in their pool opener on day one.
•Black Sox roster: Tyron Bartorillo, Tyson Byrne, Rhys Casley, Ben Enoka, Donny Hale, Jerome Haretuku, Nic Hayes, Penese Iosefo, Wayne Laulu, Thomas Makea, Jeremy Manley, Jarrad Martin, Daniel Milne, Brad Rona, Heinie Shannon, Patrick Shannon, Aaron Stroman-Neemia.