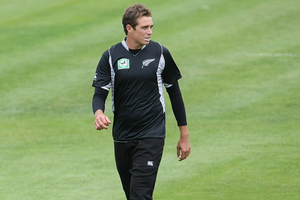 New Zealand have gone for the kill in the ANZ one-day series against England, calling in not-so-secret weapon Tim Southee for the remaining two games.
Despite assurances Southee, recovering from a thumb injury, would be kept under wraps until the tests, the national selectors seem to have smelt blood in the water and have let him loose.
Mitchell McClenaghan took four wickets before departing with a side strain in the Black Caps' three-wicket win in Hamilton last night, and now Southee will have a chance to capitalise on the good work of the man he has replaced.
He could be immediately included in the playing XI in Napier on Wednesday - with provincial teammate Trent Boult the other option - and have the opportunity to bowl New Zealand to a series victory.
That prospect seemed rather unlikely before McClenaghan's injury, with national selection manager Kim Littlejohn ruling out the possibility of recalling Southee before next month's three-test series.
Littlejohn said it was preferential for Southee to remain with Northern Districts rather than give the England batsmen the chance to get "a look at him".
But, with England's test team arguably on a par with the Proteas outfit which embarrassed the Black Caps last month, it would perhaps be prudent for New Zealand to snatch their current chance for a series triumph rather than leave Southee in reserve.
He certainly appeared ready to return during Northern Districts' win over Wellington last week, with match figures of 9-149 being complemented by 83 from 54 balls with the bat during his first run-out in two months.
The 24-year-old felt no ill effects of the torn ligaments he suffered in his left thumb late last year, saying one game at domestic level was enough to assure him of fitness and form.
"I'm very pleased with the way [the recovery] has gone," he said. "I saw the surgeon a couple of weeks ago and he was very happy with the way that things had progressed.
"I've been bowling in the nets for the last three or four weeks. It was good to get some match time in and it felt like it was coming out reasonably well."
As for the confusion surrounding his availability, Southee thought he had been ruled out of only next week's four-day warm-up match in Queenstown and was ready, when needed, for the one-day series.
Although another game in the Plunket Shield may have provided better preparation for wearing the whites against England, Southee said he was hardly going to turn down the opportunity join the national team earlier than expected.
"The opportunity has come to come into the one-day set-up, and leading into the tests there's still a few weeks so there's still a chance to do plenty of bowling."
Southee was looking forward to meeting with teammates "buzzing" after the dramatic win in Hamilton, though he did express his disappointment at the reason for his recall.
"[McClenaghan] has done extremely well in the short period he's been involved and it's a shame for him to get injured last night after another good performance.
"I guess I have big shoes to fill. He's done a great job and there will be a bit of pressure there for whoever takes over his role.
"There will be a few nerves there - but I'll hopefully get a good day's training tomorrow and we'll see after that. It's exciting times and it's good to be back."
- APNZ