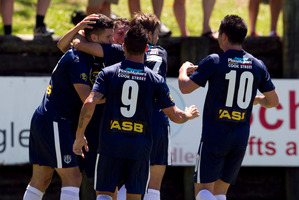 Auckland City made no race of it. Their 7-1 home win over Waikato FC, coupled with Waitakere United's 3-0 win away to Hawkes Bay United, confirmed it is business as usual at the top of the table.
City made certain of second place and the benefits that go with it. With Waitakere already confirmed as minor premiers, the Auckland teams finished one-two for the sixth time in nine seasons.
Canterbury's 4-1 home win on the back of an Aaron Clapham hat-trick - two from the penalty spot - edged them ahead of Hawkes Bay into third place. Next week's final round will sort out the third-fourth finishing order and the semifinal match-ups. Hawkes Bay are away to Team Wellington and Canterbury are at Waitakere.
Auckland City, showing few signs of midweek lethargy, gave Waikato FC a first-half lesson, cruising to 5-0 after taking the lead with the first of two Gustavo Souto goals after just 11 minutes.
Souto's second, a contender for goal of the season, followed 12 minutes later. Alex Feneridis added the third within five minutes.
The fourth, from the penalty spot, converted by Adam Dickinson after Souto was held back by Ray How - red-carded for his trouble - was increased a minute into stoppage time when Manel Exposito exposed the hole in the visitor's defence before clipping his shot in off the far post.
Five goals and a player down after the break, Waikato FC hit back positively with Sunny Singh scoring a great solo goal 10 minutes into the second half.
Any joy was short-lived, however, as substitute Emiliano Tade continued his great record off the bench in scoring three minutes later. The scoring completed by a Chris Bale rocket on 90 minutes.
"Happy with that. I thought we played a good game," said City coach Ramon Tribulietx.
"That early goal helped. Now with second place assured, we will probably rotate a couple of players next week."
While City failed to convert any of 13 corners, two of Waitakere's goals came from such set plays with Jake Butler and Matt Cunneen cashing in with goals in the 31st and 51st minutes. Ryan de Vries completed the scoring five minutes later.
That win dashed Hawkes Bay hopes of ending their home season unbeaten while Otago's loss to Team Wellington in Invercargill left the home side pointless in home matches this season.