Black Caviar outclasses opposition in Lightning Stakes scorching to her 23rd win.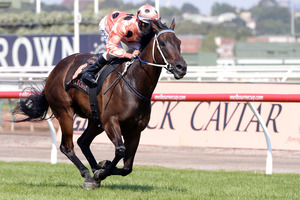 The world's fastest horse became even faster at Flemington on Saturday as Black Caviar produced one of the most spectacular performances of her celebrated career.
In her first run in eight months, and her first since her career was threatened by injury, the champion mare maintained her unbeaten record with her third Lightning Stakes win and her 23rd victory from as many starts.
In front of a crowd that applauded her from the time she walked into the paddock until she was led away after the race, Black Caviar won as she liked, setting her first track record.
But the win was about more than records and winning margins.
It proved the horse who is arguably the best to have raced in Australia in more than 80 years is fully recovered from the injury that threatened to end her career at Royal Ascot last June and is ready to stretch her winning streak.
"We thought it was over," Moody said. "I'm just so proud. It's great to have her back."
A man of little emotion, Moody was close to tears as he attempted - and failed - to describe his feelings.
"Stick around and you might see a tear," he said.
Black Caviar appeared well short of race trim and sweated up in the 33C heat.
However, she galloped as fluently and as strongly as ever from the moment the gates opened until she crossed the line at the end of the 1000m in 55.42 seconds, 0.08 faster than the previous best set by Special in 1988.
Moody cared little for the record.
But he cared greatly for the effort of a horse that has made him a racing institution and herself one of the best racehorses that has ever lived.
"How do you describe her?" he asked. "I can't, I really can't."
For jockey Luke Nolen there was redemption for the dreadful miscalculation he made at Ascot when he stopped riding Black Caviar 20m from the finish of the Diamond Jubilee Stakes and was almost caught.
"I didn't drop me hands on her today," Nolen said.
"I just sat there and squeezed."
As dominant as Black Caviar was in the Lightning, Nolen said she had been affected by the heatwave conditions.
"I think she was knocked around a bit by the heat today," he said.
"But she was pretty good once we got going.
"She just continues to amaze me."
Some of the most vivid praise for the mare came from rival jockeys.
Glen Boss, who rode second favourite Shamexpress, tried to match it with Black Caviar but was gone at the 300m. "You try and go with her, but we were all at our top and she hadn't let go yet."
Daniel Stackhouse, who rode stablemate and third placegetter Golden Archer, was both amazed and disillusioned.
"You think you're going as good as her and then she just takes off and leaves you in the dust," he said.
Craig Williams said his mount Satin Shoes "did a great job" for fourth, noting the track record time set by the undefeated champ.
"I remember Special when I was a kid, she was an unbelievable sprinter and Black Caviar broke her record today," Williams said.
Linda Meech said Moment Of Change, himself a group one winner, was on target for the Newmarket Hcp. He got closest to Black Caviar on Saturday, finishing 2 lengths off her.
"She's just a freak and it's too hard to beat her," Meech said. "She doesn't look as though she's going as fast as she is. But you're thinking you're on a genuine group one horse yourself and she's running away from you."
Black Caviar's immediate future remains undetermined, but could include one more run in Melbourne and further races in Sydney and possibly Brisbane before she goes to the breeding barn in the spring.
- AAP