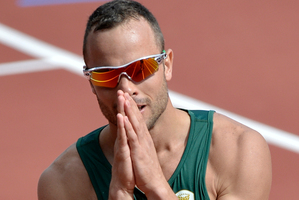 It was at the London Paralympics when Oscar Pistorius' mask first slipped.
The South African sprinter, whose heroic effort to compete against able-bodied athletes had seen him take part in the Olympics the month before, responded to his first defeat in a 200m final by rounding on the man who had beaten him. "We aren't racing a fair race," he complained.
Pistorius, the poster boy with the thousand-watt smile, accused Brazilian victor Alan Oliveira of cheating by using longer prosthetic blades than his own, and even implied that he might have been getting a boost by other means.
Considering his own battles with those who have accused him of gaining an unfair advantage from his carbon-fibre prosthetics, it was a graceless reaction. It was also the first time the public at large caught a glimpse of what many closer observers had known for some time: that the Blade Runner had a furious temper.
While sponsors yesterday rushed to tear down billboards bearing his image and broadcasters dropped him from their schedules, there was a broader feeling the media had ignored a darker side to the first Paralympic icon.
The confusion of man and myth has been obvious since he first entered the public consciousness back in 2007 and promised to bridge the divide between Paralympic and Olympic competition by sheer force of performance.
Tom Hanks started bidding for the film rights to the story of the young South African with the J-shaped prosthetics. The plot was compelling: the first double-amputee to compete against able-bodied athletes in an Olympic Games, who was listed in 2012 by Time magazine among the world's 100 most-influential people.
It was an unlikely accomplishment for a boy born without fibulae, whose parents, Henke and Sheila, had to make the agonising decision to amputate their 11-month-old son's legs below the knee in October 1987. By the age of 16, with the help of his prosthetics, he was playing competitive sport at school. Then a serious knee injury on the rugby field in 2003 put him into rehabilitation and on a path that would peak at the top of the rostrum in Athens, where he won Paralympic gold a year later.
Pistorius' pursuit of able-bodied elite athletes made him a global phenomenon, pushing back the boundaries of disability and capturing the imagination of a world willing him to catch up with them. Commercial rewards for his profile were considerable - he earned sponsorship deals said to be worth US$2 million ($2.3 million) a year with corporate partners from Nike to BT, Oakley and even French fashion house Thierry Mugler.
His fame peaked in London last July, where he reached the semifinals of the Olympic 400m and the final of the 4 x 400m relay. "As I came out of the tunnel, I saw my friends and family, including my grandmother with the South African flag," he said. "On the blocks, I didn't know whether I should cry or be happy."
September's outburst at Oliveira tarnished his image and forced him to issue a public apology. But he seemed to have recovered his fairytale touch on the final day of the London Games, when he won the 400m and earned a standing ovation from the crowd of 80,000.
Back home in South Africa there were further signs of his combustible character when he hit the headlines in December after allegedly threatening to break the legs of businessman Quinton van der Burgh, whom he reportedly accused of an illicit tryst with a girl he had also been seeing.
Deeply religious, Pistorius has a verse from Corinthians tattooed on his left shoulder: "I do not run like a man running aimlessly; I do not fight like a man beating the air. I execute each strike with intent. I beat my body and make it my slave ..." He also has the date of his mother's death in 2002 tattooed on an arm and credits her stridently positive attitude with his athletic drive and rejection of self-pity: "There wasn't much scope for me to think about my disability as a disadvantage or to pity myself."
Another more complex character has been evident. Friends had warned his risk-taking and sleeplessness seemed out of control. In 2009 he was lucky to survive after crashing his speedboat. A motorbike accident left one of his prosthetics hanging from barbed wire.
When a visiting writer from the New York Times admitted to him two years ago that he had not shot a weapon, gun enthusiast Pistorius took him to the shooting range, where he said he would sometimes go at night when he could not sleep. The athlete mentioned to him that when his house alarm rang at night he would creep downstairs with his 9mm pistol. Later, pleased with his journalist pupil's progress, the runner told him: "If you practised, I think you could be pretty deadly."
His tumultuous romantic life has been a staple of local gossip pages but some incidents went largely unreported. While no charges were pressed, police sources were aware of at least one other complaint of "abuse" from a young woman who had been dating the athlete.
- Independent