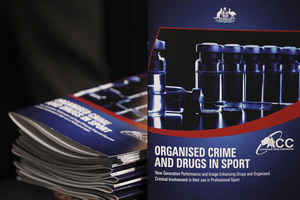 The Australian Sports Anti-Doping Agency will interview about 150 athletes, support staff and administrators over the findings of the damning crime commission report revealed last week that indicated widespread use of performance enhancing substances in professional sport and links between users and organized crime.
ASADA said in a statement Thursday that the interviews would involve two major Australian sporting codes, widely reported to be the National Rugby League competition and the Australian rules Australian Football League.
The doping agency says the number of interviews may grow if "new lines of inquiry'' are uncovered.
ASADA said its investigation is both "complex and wide-ranging'' and expected to take several months. It said it will name clubs or individuals expected to be involved.
"ASADA is unable to talk publicly about its investigation and that includes speculating about, or naming clubs or individuals until such time as its legislation permits,'' ASADA said. "This ensures the integrity of the investigation and the privacy of any individual under investigation is protected.''
The Australian Crime Commission released the findings of a year-long investigation, "Project Aperio,'' last Thursday without releasing the names of clubs or individuals under investigation triggering concern across the country and bringing descriptions of the day being the bleakest for sport in this country.
The ACC said there is evidence of at least one potential case of match-fixing, widespread use of prohibited substances including peptides, hormones and illicit drugs and the infiltration of organized criminal groups in the distribution of performance and image-enhancing drugs.
The primary targets of the report are the NRL and AFL.
- AAP