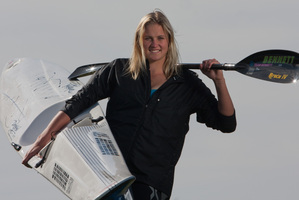 Top New Zealand surf lifesaver Devon Halligan has withdrawn from the remaining rounds of the IronWoman series as she recovers from a heart complaint.
Halligan, who was born in Sydney but switched allegiance to New Zealand last year, was recently diagnosed with myocarditis, an inflammation of the heart, and was forced to withdraw from competing in rounds three and four of the series.
She seemed out of sorts in finishing last in the opening leg in Perth in December and was second last in the second round in Newcastle last month. Halligan has decided to skip the rest of the series to focus on her health but doesn't think she will be out for long.
"I am devastated to be withdrawing from the series,'' Halligan said. "This was my first series, so I haven't had a chance to race and compete at the best of my ability.''
The 20-year-old, who is the daughter of former New Zealand rugby league international Daryl Halligan, was a member of the New Zealand squad who won last year's world team title in Adelaide.
She qualified for this year's prestigious IronWoman series following a stand-out performance at the Australian titles last year and is now looking forward to getting back into training.
"The doctors gave me the all clear this week to return to training, which is very exciting after having two months off, and I will be able to return to racing in a month. My next focus will be the NSW state competition and then the Aussie titles.''
Series director Guy Leech said he was very disappointment for the young athlete.
"Devon is a dedicated athlete with a successful future ahead of her,'' Leech said. "The health and wellbeing of the athletes is our No 1 priority and we hope Devon has a speedy recovery and is back racing soon.''
The Gold Coast local will be beachside this Sunday, at Coolum Beach, to watch her fellow IronWoman battle it out in round five of the series.
- APNZ