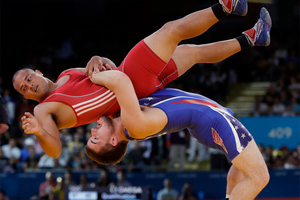 The New Zealand Olympic Committee is satisfied all major New Zealand Olympic sports have secured their spots on the core Games programme for 2020 as wrestling battles to maintain its status.
Wrestling will still feature at the 2016 Olympics in Rio de Janeiro but faces being cut from the 2020 Games, which have yet to be awarded to a host city.
The sport will battle it out with seven other sports for one remaining spot on the 2020 Games programme. A decision on the final makeup of the 2020 Olympics will be made at an International Olympic Committee meeting in September.
The executive board of the IOC met overnight (NZT) to review the 26 sports contested at London in order to remove one of them so it could add one later this year. It had been expected modern pentathlon - a sport which combines fencing, horse riding, swimming, running and shooting - was the most likely to be dropped.
The executive board reviewed 39 criteria, including TV ratings, ticket sales, anti-doping policy and global participation and popularity but with no official rankings or recommendations contained in the report, the final decision by the 15-member board was also subject to political, emotional and sentimental factors.
Golf and rugby sevens have already been confirmed as new Olympic sports and will feature in Rio. Wrestling will now join wushu (Chinese martial art), wakeboarding, sport climbing, roller sports, squash, baseball/softball and karate to be the last of the 28 sports at the 2020 Games.
Sixteen New Zealanders have competed in wrestling at the Olympic Games between 1956 and 2000 but no wrestling medals have been won. Wrestling features on the Commonwealth Games programme.
"While disappointing for New Zealand Wrestling and the New Zealand athletes that participate in this ancient sport, it is important to note that today's decision is a recommendation that wrestling be re-examined," the NZOC said in a statement. "The final confirmation of sports to be included in the 2020 programme will take place in September."
The vote by the IOC's executive board to cut wrestling has stunned the world's wrestlers, who see their sport as popular in many countries and steeped in history as old as the Olympics themselves. Wrestling featured in the first modern Olympics in Athens in 1896.
2004 Olympic Greco-Roman champion Khasan Baroev of Russia called the decision "mind-boggling."
"I just can't believe it. And what sport will then be added to the Olympic program? What sport is worthy of replacing ours?" Baroev told the ITAR-Tass news agency. "Wrestling is popular in many countries just see how the medals were distributed at the last Olympics."
- additional reporting AP
- APNZ