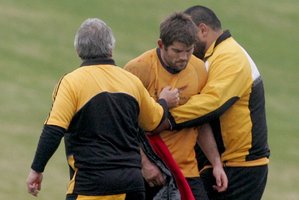 Sentencing for a Te Puna rugby player who knocked out former Steamers player Simon Chisholm during a premier rugby game with a blind-side punch has been adjourned until next month.
Farmhand Uenuku Pieta, 22, was due to be sentenced in the Tauranga District Court today after earlier pleading guilty to a charge of assault with intent to injure in October.
But due to Judge Louis Bidois being unavailable, sentencing will now take place on March 19.
Peita has admitted knocking Chisholm - a Te Puke Sports hooker - unconscious during a premier grade rugby match against Te Puna in July last year.
Chisholm spent two days in Tauranga Hospital due to bruising on his brain following the assault.
Play Virtual & Fantasy Super Rugby
Test your tipping skills with Virtual or create your dream team with Fantasy Super Rugby and be in to win a slice of over $10,000 in prizes.
Be part of the game and sign up now.
For more articles from this region, go to Bay of Plenty Times