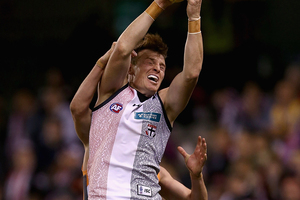 Essendon star recruit Brendon Goddard says Bombers players are feeling anxious as they await the outcome of what's expected to be a lengthy investigation into possible performance-enhancing drug use at the AFL club.
The ex-St Kilda star, whose status as a new recruit means he's one of the few Bombers not under scrutiny, said he was trying to help his new teammates through the ordeal as best he could.
"Understandably they've been a bit anxious," Goddard said.
"It's probably hard for me to get my head around it because I obviously wasn't there last year and I'm not directly involved or affected.
"What we've talked about as a group is what we can do as a team and as players."
The Bombers have been identified by an Australian Crime Commission (ACC) investigation which revealed it was possible that players at the club took World Anti-Doping Agency (WADA) prohibited substances without their knowledge.
Asked whether players felt let down, Goddard said he was limited in what he could say.
As a member of the Bombers' leadership group, whose former club St Kilda endured several scandals during his time there, Goddard said his experience was helping him and other Bombers cope.
"There's no doubt I've offered my opinion on certain things and experience to the younger guys and the whole playing group," he said.
"But as a whole team we've really helped each other in certain situations, particularly in the last week, we've talked about what we need to do and as I said, control what we can control."AAP