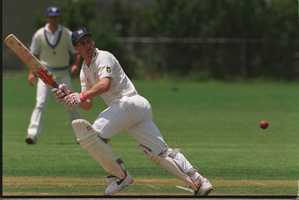 Former Black Cap batsman Craig Spearman is spearheading a drive to help English cricketers overcome gambling addictions.
The revelation that Spearman was a compulsive gambler at the height of his career has been coupled with calls for others to come forward.
Spearman will be used as a kind of poster boy in a campaign by the Professional Cricketers' Association to encourage players to recognise the symptoms and take action.
Several players have admitted difficulties with gambling. Although there is no suggestion that it is linked with illegal betting activities in Asia on cricket matches, the PCA are painfully aware that a player in debt is a player exposed to other forces.
"It's caused me and people around me huge heartache," said Spearman. "At times, the pain and self-loathing has pushed me to the brink. I've tried many types of therapy, some of which were good and some not so good.
"In recent times, learning and understanding myself as an individual and adhering to strict disciplines has led me away from gambling and on to a better path for the future."
The PCA have been passionately proactive in recent years in helping players cope with the peculiar demands of being a professional sportsman.
They have been at the forefront in dealing with the perils of depression, encouraged initially by the brave contributions of Marcus Trescothick, the Somerset captain and former England batsman, whose international career was ended because of his illness.
It is hoped that Spearman, who played 70 times for New Zealand including 19 test matches, and batted with huge distinction for Gloucestershire in the 2000s, will have a similar effect as an ambassador for those with gambling difficulties.
"This is not an anti-gambling crusade," said the PCA's assistant chief executive, Jason Ratcliffe. "We are bombarded with the chance to bet in our email inboxes all the time. It is all around us and it is very easily accessible."
The unspoken fear is that young cricketers may be especially susceptible to betting.
They have a bit of spare cash and despite the rigours of the professional game, they also have plenty of time on their hands.
Spearman has admitted his addiction now partly for his own benefit but mostly because he thinks he can send a message to others.
"Being an international cricketer, and then coming here from New Zealand, I didn't initially have a lot of friends. You're always on the move," Spearman said. "I always found that if I had time off or wanted to escape, wherever I was in the world, there was a chance to go and gamble. It was a recreational activity as much as anything else in my time off.
"You know the feeling when you leave a movie theatre, come out of the darkness and hit the real world again? To me, it was like that, go and gamble and then hit the real world again."
Spearman admitted that his watershed year was in 2005 when his wife was in hospital after suffering a brain haemorrhage. His career was still flourishing and only the year before he had ensured his place in cricket's annals by registering the highest innings in Gloucestershire's history.
His 341 overtook the 318 of WG Grace which had stood as the county's individual record for 128 years. But something was wrong and it had been wrong for several years by then. Spearman had suddenly recognised it in late 1996.
"I can pinpoint the day where it went over the line from being recreational to a problem. We stopped over in Cairns on our way to a tour of Pakistan. I lost a lot of money but fortunately won it all back the day before we were due to go. From then on, I knew there were some issues."
By giving this case publicity, the PCA hope to deal with what may be a much wider problem than anybody yet realises. Although there is no concrete evidence to suppose there are any more gambling addicts in cricket than in the rest of the society - about one per cent of the population - the stresses and temptations are different.
- Independent