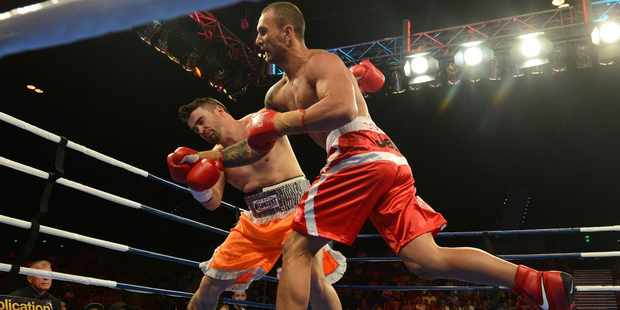 Quade Cooper got his professional boxing career off to a promising start with a first-round knockout of Barry Dunnett last night.
Dunnett was earlier given a standing count but was finished off with a straight right hand from Cooper after 2min 59sec at the Brisbane Entertainment Centre.
Dunnett went straight down on his back and was put into the recovery position as various people, including those from Cooper's corner, quickly stormed into the ring. Wallabies playmaker Cooper celebrated, but his cornerman Anthony Mundine looked concerned.
Queenslander Dunnett was soon up, though wobbly on his feet.
There was pressure on 24-year-old Cooper but also his opponent. Dunnett has boxed twice before - in 2010, and has competed in 15 Muay Thai fights - but would not been used to this sort of scrutiny.
Unlike Cooper, Dunnett's day job isn't professional sport, but rather insurance - he specialises in investigating car crashes.
He played his cards well in the build-up, suggesting Cooper rubbed people up the wrong way and was taking up boxing as a sort of vanity project. One of his sharpest blows was suggesting Cooper wasn't an "overly confident''person.
In looking to appeal to the man and woman in the street, Dunnett could well have found the mark, and he got a rousing cheer after his introduction. Cooper was booed after his, but staunchly stared straight ahead.
Scheduled for four three-minute rounds, this one was over quickly, but Cooper wasn't untroubled.
Although he looked quick and athletic, he struggled to find his range early and Dunnett knocked him off balance with a body shot. It brought hoots from the crowd and encouragement from his corner, who yelled: "He doesn't want to be hit.''
Finding his range, Cooper snapped out left jabs and a right-hand uppercut which had Dunnett in trouble and resulted in a standing count.
Egged on by his corner, Cooper went for the kill and the end came quickly.
It wasn't the result Tokoroa-born Cooper's detractors - and there are many in New Zealand due to his targeting of All Blacks captain Richie McCaw - wanted, and now he is likely to fight again.
- APNZ