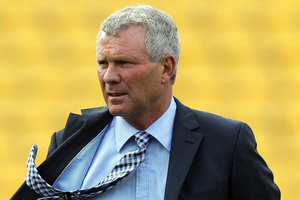 The Wellington Phoenix might have a long-term vision but they have the chance to make big changes in the off-season with nearly half of their players off contract.
It's a good situation to be in, because this season's squad are currently ninth on the A-League ladder and were thumped 5-0 by Central Coast last night.
They have looked off the pace all year and the 37 goals they have so far conceded is only four short of their worst season in the league.
Lucas Pantelis and Jimmy Downey will not be returning to Wellington at season's end, while Mark Paston, Leo Bertos, Tony Lochhead, Ian Hogg, Dani Sanchez, Alex Smith and Isaka Cernak are all off contract at the end of this campaign. Benjamin Totori has an option for another season, which is all-but guaranteed to be activated.
That leaves coach Ricki Herbert with some big decisions surrounding a handful of players he has been fiercely loyal to over the past few years.
The Welnix owners have thrown their support behind Herbert and have said he is their man to lead the Phoenix but there's no doubt he needs an improved roster.
Andrew Durante, Ben Sigmund, Jeremy Brockie, Glen Moss, Louis Fenton and Tyler Boyd are all contracted through until the end of the 2014-2015 season and Paul Ifill, Stein Huysegems, Manny Muscat, Vince Lia, Michael Boxall and Cameron Lindsay are inked until the end of next season.
The Phoenix have not always had a good record in the market. The likes of Cleberson, George, Toto, Diego Walsh, Leilei Gao, Felipe, Brent Griffiths, Jiang Chen, Royce Brownlie, Steven O'Dor and Niko Tsattalios have all come and gone with little impact.
Herbert has always referred to the fact they've had to build a club from scratch for their middling results but the Western Sydney Wanderers are third in their first season in the A-League, which shows what can be done.
Western Sydney have recruited smartly, added a marquee player in Shinji Ono and have won 11 from 19 heading into this weekend's round and boast the second-best defensive record in the competition. Last week they touched up Adelaide United 4-2 and are one of the league's success stories.
Historically, the Phoenix have had issues finding a right back, and they've always lacked quality central midfielders.
Ifill can't carry the load up front and needs a quality link man in central midfield who has the ability to go forward rather than simply hold play up like Muscat and Lia.
Cernak has looked good since joining from Melbourne but the Phoenix might struggle to re-sign him for next season with reports suggesting he is heading to Perth. The 23-year-old was almost a lone bright spark during last night's loss to Central Coast, which Herbert labelled "embarrassing".
"No excuses at all," Herbert said after the game. "I thought we were dreadful. It's an embarrassing result for the club.
"It's all about pride. For me it's self-centred. As a player you have an incredible responsibility to deliver."
The Phoenix have the chance to restore some pride to their season when they travel to Brisbane on February 17, and the extra time between games may give Herbert a chance to mull over what players are in their final weeks with the club.
- APNZ