Investigation into match fixing of soccer games involves 15 countries and more than 400 suspects.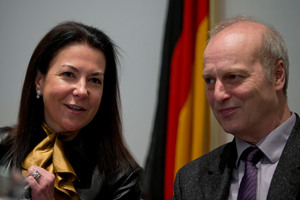 "This is", suggested Friedhelm Althans, the chief investigator of the Bochum police in Germany, "the tip of the iceberg".
It may only have been the tip of that iceberg exposed yesterday but it still made it a day to savour for Althans, a tall, chatty man who has driven his investigation into match-fixing from his offices in a small Ruhr city to global attention. What began as an inquiry into the fixing of fourth-tier domestic matches is now an international inquiry, taking in 15 countries around the world and more than 400 suspects. His lonely crusade has now found an international following.
It is Althans who speaks for Europol's Operation Veto, a well-meaning co-operation between five European countries to try to combat what they and many others regard as a growing threat to the integrity of football in Europe and abroad, and at levels from regional leagues in Europe's lesser footballing nations up to the Champions League and international football.
The bread and butter is what Althans began with, the fixing of three German fourth division games. It earned, according to the German authorities, those who arranged it a profit of €250,000 ($400,500). From there it has mushroomed; 79 suspect games in Turkey, 70 in Germany, 41 in Switzerland, 20 in Hungary, 19 in Belgium and all the way down to one in England. It represents, as Rob Wainwright, head of Europol, pointed out, a small percentage of professional games played in the timeframe under investigation, roughly since 2009, but it is there and it is growing.
"We recognise the problem continues," said Wainwright. "Criminal syndicates see this as a high-profit, low-risk area for criminal activity."
It fell to Althans to outline the task that confronts the authorities. One fixed match involves up to 50 suspects in 10 countries, he explained. Police co-ordination is nearly impossible and it is difficult to collect evidence.
Where Althans is checked by borders and boundaries, the fixers, in particular one syndicate believed to operate out of Singapore and the Far East, are not. Evidence is difficult to attain - wire-tapping has been the most productive source - and even more difficult to turn into a case strong enough to convince prosecutors to go to court. Criminal liability differs widely from country to country. It is as expensive a business to police as it is a profitable one for the fixers to arrange.
Yesterday at Europol's HQ in The Hague, Althans and Wainwright were joined by policemen from Finland, Slovenia and Hungary, the roll call from Europe's outer nations significant. This is the way in for the fixers, on the fringes. Take Hungary; four referees were arrested in 2011 and €320,000 in cash discovered on accompanying raids. Referees are an easy target, particularly in countries where they are poorly paid. The sums the Hungarians believe are offered to officials range from €40,000 to €600,000 to fix a game. The highest bribe uncovered by Althans' investigation was €140,000 paid to fix an Austrian Bundesliga match between Kapfenburg and Austria Wien, the maximum profit they found on one game is €700,000 again in the Austrian league. It is a healthy return.
The Hungarians have in custody Wilson Raj Perumal, a Singaporean convicted of match-fixing by a Finnish court. Perumal is believed to have helped fix games via Hungarian organisers, including an Under-20 match between Argentina and Bolivia that was settled by a dubious penalty in the 12th minute of injury time.
The trail from Perumal leads to a man called Tan Seet Eng, also known as Dan Tan, another Singaporean. An international arrest warrant has been issued for Tan - he is wanted in Italy and Hungary but the Singaporean authorities are yet to act on it. Gianni Baldi, Interpol's head of criminal organisations and part of Operation Veto, said: "This is not a quick matter, these are complicated investigations. We are working with the Singapore authorities."
Interpol has its own match-fixing task force but it is Operation Veto that has given dramatic fresh impetus to what is widely regarded as a deep-rooted threat to the game's integrity. Althans said there is evidence that Tan was involved with attempts to fix a Premier League game as far back as 1999.
It remains a threat that will largely flirt around the edges of the top leagues although Serie A has not proved immune and Tan is suspected of involvement in the latest fixing scandal that saw Juventus coach Antonio Conte, among others, serve a ban for not passing on information to the authorities (he continues to deny any wrong doing). It will, to an extent, be a relief to the likes of Althans that two so high-profile fixtures, those two from the Champions League, one in England, have been discovered as it raises the profile of their cause. It is down among the makeweights, the roots of the European game, that the widest threat lies; but it is spreading - 41 suspicious games in the Swiss league, 18 in Croatia, the list gets longer each year.
At junior level, too, it is a broadening problem through the increasing number of under-age international fixtures now played. Fifa's former head of security Chris Eaton told The Independent two years ago that he had evidence of young players being caught up in the fixers' webs early in their careers. They are paid small sums at first, then helped to find clubs in Europe, at first in Europe's peripheral leagues, and then it's payback time. Eaton described it as, in effect, trafficking.
The numbers revealed by Europol yesterday are striking. Some of the matches have involved prosecutions and convictions, other are still at the suspicious stage. There was an element of smoke and mirrors in The Hague, a body highlighting its worth, but for all that this is a real and present danger to football. Althans expects more countries to become involved, yesterday suggesting the Netherlands as a likely addition.
"This is an integrity issue," said Wainwright. "It goes to the very heart of the game, the fabric of what sport is." Or as Althans put it: 'We can't let citizens, the public, athletes lose trust in sport."
-Independent