Recurring leg soreness may rob grand old trotter of a crack at riches across the Ditch.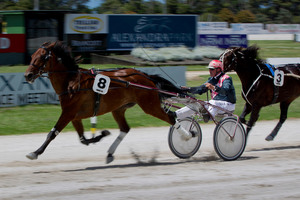 The legs which have robbed Stig of his best days are now threatening his shot at the greatest month in the history of Australasian trotting.
The 10-year-old trotter has been one of the most phenomenal comeback stories of all time, clawing his way back to the top of the trotting tree after three years of retirement.
His two defeats of champion rival I Can Doosit in December, both in national record time, were a glimpse into what Stig might have been had he not been dogged by soreness most of his career.
Now with those problems flaring up, trainer Paul Nairn is considering pulling the pin on every trotting trainer's dream month.
Next month will see three rich races in as many weeks in Australia, starting with the A$200,000 Glenferrie Farms Challenge at Menangle on March 3.
That new race will run as part of a seven group-one day, highlighted by the Interdominion Pacing Final.
Two weeks later the elite trotters can head to a A$125,000 Australian Trotting Grand Prix in Melbourne with the biggest new thing in trotting on March 23.
That is the Great Southern Star series, which will consist of two A$50,000 heats and a A$250,000 final on the same day at Melton.
Horses have to be invited to both the Glenferrie Challenge and the Great Southern Star and Stig would of course be at the top of any invite list alongside I Can Doosit.
But Nairn says he is 50:50 at best to cross the Tasman because even though Stig won at Addington last Friday night he is not 100 per cent.
"He is good enough to race and beat the trotters just below the absolute best but he is having a few arthritis niggles," he told the Herald.
"That is nothing new for him because he has had arthritis most of his life and it has been a case of managing it. But when he beat I Can Doosit at Auckland his legs were as good as they ever get but he has had some niggle since he got home."
So Nairn will talk to owner Tim Butt and make a decision on whether to head overseas or stay home.
And he will need to make it quickly, as the five Kiwi invitations for the Glenferrie Challenge are likely to be issued in the next few days and if he isn't going he will need to give the emergency's connections time to get across to Sydney.
"I think I will know by the end of this week and a lot will depend on what Tim wants.
"If we stay here we have an $80,000 race at Addington on March 30, which would probably be a lot easier than anything in Aussie.
"And then we would have the Rowe Cup carnival and I'd love to win the Rowe Cup again. He thrives in Auckland.
"The money in Australia is huge and I'd also love the Aussies to see the best of him.
"But the bottom line is, I will do what is best for the horse."
While Nairn mulls over his options, Stig's arch-rival I Can Doosit was to trial at Melton last night.
Trainer Mark Purdon is pleased with his progress after fetlock problems dulled his best form in December and has the Menangle feature as his first goal at this stage.
"He is getting better all the time as we treat his fetlocks but I am probably only going to get one race into him before Sydney," said Purdon.
He looks certain to have three of his stable invited to the Challenge, with Escapee and Dr Hook, ironically formerly trained by Nairn, certainties to be among the five Kiwi entries.
With Stig to get one of the others the final automatic spot looks a contest between The Fiery Ginga and Sovereignty, with both having had rollercoaster seasons.