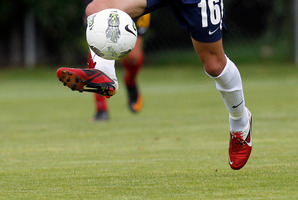 Anxious times at Auckland City as they chase a top two finish in the ASB Premiership.
Beaten for the first time since the 2010-11 season when toppled 3-2 at home by Waitakere United on Saturday, City now turn their attention to Wednesday's catch-up game at Kiwitea St - a must-win game for both teams.
Pushed down to third place following Hawkes Bay United's 3-1 away win over Otago United yesterday, Auckland City need maximum points from their first game against Matt Calcott's Capital team to get back to second and keep alive a very faint chance of claiming the minor premiership.
The focus, however, was on the 38th Super City clash in which Auckland City twice took the lead but in the end came up short in another of these always-tight battles decided by the odd goal.
From the outset this was another clash which could have boiled over as referee Matt Conger booked a player from each team in the opening seven minutes before the visitors gave away a second silly close-range free kick which Alex Feneridis clinically fired into the corner of Danny Robinson's goal.
That early breakthrough should have settled the home team and, given the amount of possession they enjoyed, laid the foundation for an all-out assault. Instead the City players failed to punish a hesitant Waitakere who kept themselves in touch without ever threatening to score.
In the shadow of halftime Luis del Monte, left alone by the corner flag, hoisted the ball goalwards and then stood back to admire his handiwork as the ball eluded teammate Allan Pearce and the despairing effort of City goalkeeper Tamati Williams to sneak under the bar and into the net.
Two minutes after the break a shocking mistake by Tim Myers and an easy finish from Manel Exposito had the home side back in front. After another couple of bookings, Waitakere hit back with the goal of the match when the ball was played wide to Ryan de Vries who picked out Roy Krishna beyond the far post where, from the acutest possible angle, he scored for 2-2. Myers later made up for his earlier bungle when, from a goalmouth scramble, he fired home the match winner.