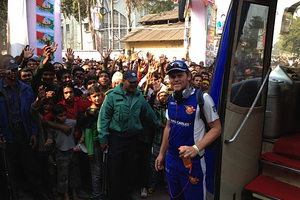 As the crowd swarmed the stage, Jacob Oram contemplated his exit strategy. Things looked bleak. There he was, a professional cricketer who had graced the finest grounds in the world and the last New Zealander to score a test century at Lord's, about to be adoringly crushed by thousands of fans at a Bangladesh primary school.
Oram is playing for the Chittagong Kings in the Bangladesh Premier League. The team, led by 'team ambassador' Brian Lara, was visiting a local village. The players sat on a stage for the speeches as security struggled to keep the crowd 5m back. Suddenly fans were milling among the cricketers on the stage.
Such surreal scenes are nothing unusual on the subcontinent. Oram says his initial shock was replaced by the standard mantra: expect the unexpected.
"Once Brian arrived there, it was uncontrolled mayhem. He got swamped. I've seen a bit in this part of the world but that was out of control. The crowd was initially about 500 pupils and teachers, then word must have got around ...
We raised our eyebrows but the Bangladesh boys laughed at our caution. For them, it's a way of life.
"The kids are not trying to annoy you, they just love cricket. Bangladesh must be close behind India in terms of support for the game."
The BPL is into its second season of colour, camaraderie and chaos. The sight of spectators surging through turnstiles has already been tempered by accusations of spot-fixing, consequent libel suits, and the familiar warnings that players mightn't get paid.
Oram has been paid the majority of his US$110,000 contract up front and says International Cricket Council anti-corruption officers constantly monitor proceedings.
He misses internationals after ending his New Zealand Cricket contract in December. Life as a T20 franchise player is more realistic after the birth of his and wife Mara's second child Thomas to join three-year-old Patrick on December 27.
"The job satisfaction is not the same as playing for New Zealand. I watched the South Africa one-day series win and it brought out a fair bit of emotion after so many weeks of turmoil. I'm not sure I'll feel that same rush of playing for my country again but there are other motivations in franchise cricket. There's a real community of T20 players these days. Some might call it a retirement fund but you still do a lot of homework because you want to win.
"That desire doesn't change across cultures. For instance, our captain went off in the dressing room in Bengali after one loss. I had to wait for things to die down and then ask one of the boys for a translation."
NEW ZEALAND has achieved few cricketing highlights in Bangladesh. Daniel Vettori's nine-wicket, 131-run effort to win a test in 2008, Stephen Fleming's 202, James Franklin's hat-trick to win tests in 2004 and Jesse Ryder's 83 to win a World Cup quarter-final over South Africa in Dhaka are among the best. There was also Bruce Murray's catch-that-wasn't at deep gully against Pakistan at Dhaka (pre-Bangladesh independence) in 1969 while running in holding the banana he'd been hit with at third man.
Lou Vincent added to those memories last month when he and captain Shahriar Nafees became the first batsmen to bat through a T20 franchise innings. They posted 197 for the Khulna Royal Bengals; Nafees made 102 and Vincent 89.
Vincent is another regular in the international T20 community. "We have prayer time before each game. There is this blissful silence for 30s in a team huddle, then we go out and play."
On the flipside, Vincent's team has also been accused of spot-fixing by the Rangpur Riders owners after beating them by nine runs. The Khulna owners slapped a libel suit on them to the tune of $15 million. It's added spice to the competition. Like Oram's dicey school visit, obligations to owners' wishes tend to take priority. Vincent says it's an accepted part of the culture (as it is in the IPL) to return home at 11.30pm from a match, change threads and head to the owner's house for a non-alcoholic dinner party before getting to bed at 2am.
Both former New Zealand cricketers thrive on the interaction with the Bangladeshi community: "It's third world outside," Vincent says. "Kids begging on the streets, old men hopping past on one leg, holes in the pavement, piles of sand in the middle of intersections with people driving around them, huge loads being transported on the backs of bicycles.
"OSH doesn't exist; it's a matter of survival. Then you walk into a market where there is a sea of beautiful colours and delicate people who humble you with their willingness to help. I never feel threatened in this part of the world.
"Fortunately we get to do some charity work, like at a local blind school [The Foundation of the Differently Abled] where I was presented with a bat which had a charming message of 'best wishes' written on it in braille.
"Our buses are always surrounded by hundreds of people. There's a bit of push and shove but I shake as many hands, pose for as many photos and sign as many bats as possible."