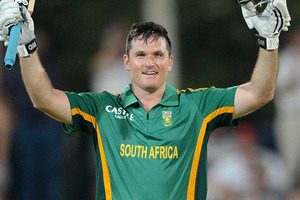 India's long-held antipathy to the Decision Review System has once more scuppered a plan under which its use could have increased in test cricket.
At the International Cricket Council's executive meeting in Dubai this week, the England Cricket Board supported a policy change whereby the host country could use the system in any bilateral series, whether the visitors wanted it or not. At present both must agree to its use.
No other country backed the English view, after India threatened to pull out of any series where the DRS was foisted on them.
Everyone knows the DRS is not foolproof. It was designed to eliminate the really poor umpiring decisions but has moved beyond that.
We've all seen predictive pathways which have caused eyes to be rubbed in disbelief as the tracking line takes an unexpected swerve to collect leg stump (in Australia, when the visitors are batting, for example) or ducked down the leg side when seemingly on target for middle and leg.
India's antagonism to the system includes their tour of Sri Lanka five years ago, when they made such a pig's ear of their referrals they gave it up as a bad job.
Early in December at a chief executives committee meeting, every member apart from India backed a change in the DRS implementation policy.
This week, N. Srinivasan, chief of the Board of Control for Cricket in India, dismissed the idea. None of the other boards stood up to him.
India believes the technology can be easily manipulated and is unreliable. Privately some boards may agree, but figure half a loaf is better than none.
There is no collective will to face up to the BCCI. It has a bulging wallet; the rest of the cricket world needs to continue the search for a large set of stones. Problem is doing that risks a financial punishment from money brokers India.
So fat chance all round as the game limps along with one nation's chest puffed out.
Enough of the negatives. Time to salute a remarkable achievement.
Last night, Graeme Smith captained his 100th international. He had been in charge of South Africa 99 times, and once skippered a world XI in a long-forgotten game against Australia in Sydney.
He's the first to that mark and Cricket South Africa declared the opening day of the test against Pakistan in Johannesburg "Biff Day" using Smith's nickname.
Australia's indefatigable Allan Border managed it 93 times, in succession - which says plenty about his skill, resilience, love of the game and, let's be fair, luck with injuries.
Smith started in 2003, aged 22 years, 82 days. He's won 47.4 per cent of those matches. Not bad, but it doesn't compare with Steve Waugh's 71.92 per cent during his 57 tests leading Australia.
Still, Smith, 32 yesterday, shows no signs of walking away any time soon.
Only three men have led their country at a younger age - Zimbabwe's Tatenda Taibu (20 years, 358 days), India's Nawab of Pataudi and Pakistani Waqar Younis.
Smith is playing his 108th test. Reaching 100 matches is no longer quite the hallowed territory it once was, 54 players having made it that far.
It is still special, but the South African skipper will have this particular mountaintop all to himself for some time to come.