When most rugby players hang up their boots - or head overseas - an announcement is made.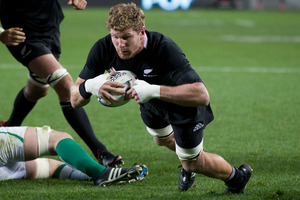 When most rugby players hang up their boots - or head overseas - an announcement is made.
Adam Thomson is not like most rugby players.
He has been the cornerstone of the Highlanders for the past five years, playing all but six of the 71 games played by the franchise in that time.
But what he is doing this season, and what jersey he is going to wear, if any, remains a mystery.
In the back half of last year, Thomson consistently said he was considering his options.
He is taking his time. And with no comment from the All Black loose forward, speculation and rumour is swirling.
When fellow loose forward Doug Tietjens got injured in pre-season training, the Highlanders tried to contact Thomson, and had no luck. They have talked to friends of his. No one knows anything.
The best indication appears to be that Thomson, who turns 31 next month, is off to Japan when its season kicks off in August.
He did not sign a New Zealand Rugby Union contract by October 30 last year, indicating he did not plan to play in this country.
And the NZRU has ruled out the possibility of Thomson playing only a handful of games for the Highlanders.
Thomson's body has taken a battering over the years. At the end of the last Super 15 season, the tank was well and truly empty.
It seems he has decided to put his feet up and get his body right so he can play overseas for another five years.
Japanese rugby is still completing its season and any new signings for next season will not be announced until it concludes.
So Thomson can probably not say anything about joining a Japanese club for a month or two.
General manager Roger Clark said the Highlanders were interested in signing Thomson for this season but it never eventuated.
"We tried to sign him but our presumption was that he must have signed a contract somewhere else in the world," Clark said.
"He has always said to us he would never play for anyone else in New Zealand apart from the Highlanders."
Highlanders coach Jamie Joseph said he would love to have Thomson but the 29-test All Black missed the boat when it came to signing a contract.
Joseph had talked to Thomson before Christmas and said if he did not want to commit to the All Blacks, it would be hard to commit to the next level down.
Thomson's Twitter feed indicates he and partner Jessie Gurunathan have been holidaying in Thailand, and may be back in New Zealand soon.
Otago Daily Times