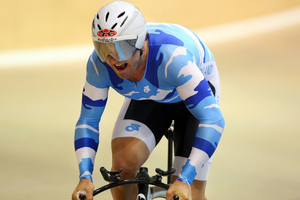 Olympic medallist Simon Van Velthooven dug deep to break his New Zealand record on the opening night of finals at the national track cycling championships in Invercargill last night.
The keirin bronze medallist clocked a stunning 1:00.973 to claim the 1000m time trial on a super-slick Stadium Southland Velodrome. Fellow Olympian Eddie Dawkins set the standard with a strong 1:01.543 before Van Velthooven responded to become the first rider to go under the 1:01 mark in this country, only fractionally under the time he set in winning the bronze medal at the world championships last year.
Riding for the Auckland centre, Van Velthooven said he was delighted with his effort given he has been racing solidly since the Olympics.
"It has been about managing the form really. On the bike I feel great but off it I am so tired,'' Van Velthooven said. "I said tonight that I would love to go 1:00.99 so I went a bit quicker. Dawk set the standard and I had to dig pretty deep to beat it.
"My goal is to go under the minute mark, which I want to do at next year's world championships at altitude in Colombia.''
Fellow Olympians Aaron Gate and Jaime Nielsen claimed titles in the individual pursuit in excellent performances, while Otago sprinter Katie Schofield made her mark with two victories in the 250m standing lap and the 500m time trial, establishing a national record in the process.
Gate (Auckland) took out the men's 4000m individual pursuit in a slick 4:22.076, backing up from a personal best of 4:21.66 in this morning's qualifying.
He almost caught young Christchurch hope Michael Vink, the overall winner of the 2012 national road championship, in an impressive performance.
Gate, 22, who won the bronze medal in the team pursuit at the Olympics, was racing in his first track event since London. It was a timely performance with the team for this month's world championships named soon as well as squads looking ahead to the Commonwealth and Olympic Games.
"It's been a while since I have done an individual pursuit so to come out here and do a personal best by a long shot and come away with a national title is pretty rewarding,'' Gate said. "I hope that is good enough to be considered for the worlds. Obviously with no team pursuit this year then it has given us the opportunity to compete in individual events and I am going to have a look at the points, scratch and Madison this week which will be good fun.''
Gate is mixing his time between the track and the road, as he heads to Belgium shortly for his first professional contract with UCI Continental team An Post Sean Kelly with fellow Olympian Shane Archbold.
Fellow Aucklander Myron Simpson produced a strong performance to come from behind to claim the bronze over Southland's Cameron Karwowski.
Nielsen, 27, grabbed her first national individual pursuit title, with world champion Alison Shanks missing with injury.
She dominated the final against outstanding Auckland teenager Georgia Williams, clocking 3:35.268 following on from her 3:34.410 in qualifying.
Williams held on well to press her future team pursuit claims, finishing with the silver in 3:36.955.
"It was good to do two PBs today,'' Nielsen said. "My previous best was a 3:35 high at the world championships so that is pretty good.''
Nielsen from Hamilton was pleased to show improvement following a long break post London.
"I'm using the championships to move ahead. It is pretty nice to gather yourself after London and now after a good break it is encouraging to be making gains quite early in the season.
"I'm not sure where the time sits but I will leave it to the selectors to see if it is good enough to be considered for the world championships.''
Her fellow Olympic and Waikato Bay of Plenty teammate Rushlee Buchanan took out the bronze medal after overcoming a strong start from Southland's Laura Fairweather, the multi Paralympic medallist who was pilot for Phillipa Gray in London.
Earlier in the day Ethan Mitchell (Auckland) and Schofield won the first title in the 250m time trial.
Mitchell, the key starter for New Zealand's team sprint, claimed back his own New Zealand record in a time of 17.325 ahead of Southland riders Matt Archibold with 17.578 and Eddie Dawkins with 17.917.
Schofield also broke her own New Zealand record of 19.595 to secure a gold medal in the elite women's 250m time trial in a time of 19.326. Southland locals took the other places on the podium, with Stephanie McKenzie claiming silver in 19.730 and Natasha Hansen bronze in 20.211.
She came back in the evening to upset national champion and New Zealand holder Natasha Hansen (Southland) in the 500m time trial.
Results from the first night of finals at the national track cycling championships at Stadium Southland Velodrome, Invercargill, last night:
Elite:
Women 3000m individual pursuit, gold medal ride: Jaime Nielsen (Waikato BOP) 3:35.268, 1; Georgia Williams (Auckland) 3:36.955, 2. Bronze medal ride: Rushlee Buchanan (Waikato BOP) 3:40.778, 3; Laura Fairweather (Southland) 3:41.673, 4.
Men 4000m individual pursuit qualifying: Gold medal ride: Aaron Gate (Auckland) 4:22.076, 1; Michael Vink (Canterbury) 4:29.254, 2; Bronze medal ride: Myron Simpson (Auckland) 3, Cameron Karwowski (Southland) caught, 4.
Women 500m time trial: Katie Schofield (Otago) 34.993, 1; Natasha Hansen (Southland) 35.168, 2; Stephanie McKenzie (Southland) 35.367, 3.
Men 1000m time trial: Simon Van Velthooven (Auckland) 1:00973, 1 (NZ Record); Eddie Dawkins (Southland) 1:01.543, 2; Cameron Karwowski (Southland) 1:02.732, 3.
Men's 250m time trial: Ethan Mitchell (Auckland) 17.325, 1 (NZ Record); Matt Archibald (Southland) 17.578, 2; Eddie Dawkins (Southland) 17.917, 3; Sam Webster (Auckland) 17.969, 4.
Women's 250m time trial: Katie Schofield (Otago) 19.326, 1 (NZ Record); Stephanie McKenzie (Southland) 19.730, 2; Natasha Hansen (Southland) 20.211, 3; Paige Paterson (Auckland) 20.334, 4.
Under-19:
Women 500m time trial: Holly Edmondston (Canterbury) 37.768, 1; Laura Heywood (Southland) 38.671, 2; Alice Hay (Canterbury) 38.815, 3.
Men 1000m time trial: Alex Hooper (Mid South Canterbury) 1:03.733, 1; Jeremy Presbury (Southland) 1:04.577, 2; Zac Williams (Auckland) 1:04.607, 3.
10km scratch race: Chad Elliston (Auckland) 1, Regan Gough (East Coast North Island) 2, Josh Haggerty (Southland) 3.
- APNZ