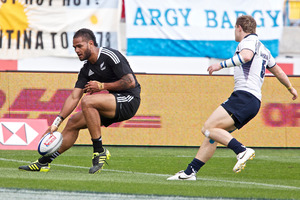 Lote Raikabula has seen the twinkle in his young teammates' eyes this week.
Playing in the Wellington leg of the sevens world series is the highlight for any New Zealand player and five of Gordon Tietjens' squad - Luke Masirewa, Sam Dickson, Belgium Tuatagaloa, Rocky Khan and Gillies Kaka - will be making their first appearance in the capital this weekend.
Raikabula, who made his maiden appearance in Wellington in 2006, said he had tried to keep his youthful teammates calm ahead of the event at Westpac Stadium.
"I've just been telling them to calm down and it's just another game," the 29-year-old said. "But you see the excitement in them. They're keen to go but I'm just telling them to control that energy and turn it in to a good striking weapon."
Yesterday's street parade in the heart of Wellington marked the beginning of the festivities for the weekend when New Zealand are always under pressure to deliver a tournament victory.
They've won at the Cake Tin for the past two years and Raikabula said the parade just added to the atmosphere.
"We get the feedback from all the other players from the other countries and this is the tournament that they always want to play, so it's awesome."
New Zealand have a healthy lead in the series standings after three legs and victory this weekend would put them on the right track towards another world title.
They're in Pool A with England, the US and Spain and Raikabula said the English, who New Zealand meet first today, would be a huge threat after a disappointing start to the world series where they sit 13th.
"They'll try to get back on the horse at this tournament so we know it's going to be tough," Raikabula said. "We are not looking ahead of the second and third game so we are looking forward to the England game."
The US are a rising power in the sevens game and boast the quickest man on the circuit in Carlin Isles, and Spain are rank outsiders.
Aside from their newcomers to Wellington, New Zealand's squad offers experience in Raikabula, skipper DJ Forbes, pivot Tomasi Cama, Waikato's Tim Mikkelson and Crusaders' outside back Kurt Baker.
France and Kenya open the tournament at 1pm today with the finals tomorrow.
New Zealand squad
Kurt Baker (Taranaki), Tomasi Cama (Manawatu), Sam Dickson (Canterbury), DJ Forbes (captain, Counties Manukau), Gillies Kaka (Hawkes Bay), Rocky Khan (Auckland), Ben Lam (Auckland), Luke Masirewa (Waikato), Tim Mikkelson (Waikato), Lote Raikabula (Wellington), David Raikuna (North Harbour), Belgium Tuatagaloa (Canterbury)
- APNZ