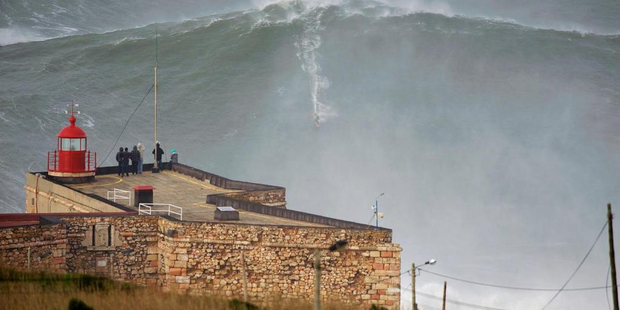 Big-wave surfer Garrett McNamara has reportedly broken his Guinness World Record for surfing the biggest ever wave after a photo emerged on the web of his latest feat yesterday.
The 44-year-old Hawaii pro surfer set the record last May after catching a 78-foot wave off the coast of Portugal.
According to reports, McNamara rode a near 100-foot (30 metre) wave at the same spot earlier this week.
The latest record or the authenticity of the image, reportedly captured by renowned surfing photographer To Mane, have yet to be confirmed.
According to his Twitter feed McNamara has been in Portugal attempting to beat the previous record.
Surfing Today reports the conditions in Nazare "were heavenly perfect".
"Light southern winds and strong swell coming from northwest and hitting the local canyon as it should," the website said.
Speaking to media after breaking the record last year McNamara said he originally didn't want to attempt the waves that day after wiping out numerous times on even bigger swells in the same spot, above an undersea canyon known as one of the biggest wave-generators on the planet.
"I was really beat-up that morning," he said. "This day, I did not want to get out of bed."
He changed his mind at the urging of friends, once they got into the ocean and he helped others catch a few waves.
"Everything came together," McNamara said. "Everything felt right."
- nzherald.co.nz