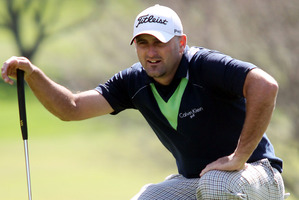 A host of former champions will try to reclaim their title at this year's New Zealand PGA Championship in Queenstown starting on February 28.
Michael Hendry is returning to defend his title at The Hills.
Hendry had a fantastic 2012, going on to win another three titles after his victory in Queenstown as well as racking up a number of top-10 finishes on the PGA Tour of Australasia and the OneAsia tour.
Another three Kiwi former champions will join Hendry in the field.
The 2009 winner, Steven Alker, is back after missing the event last year. Early last year, he showed how good he is with a top-20 finish at The Open Championship at Royal Lytham and St Annes.
The 1984 champion, Greg Turner, is back for a crack at the title.
The other former winner, Simon Owen, who is best remembered for his duel with Jack Nicklaus in the 1978 British Open (where he finished runner-up), makes a rare re-appearance in a professional event, which marks the centenary of the New Zealand PGA.
Last year's runner-up and former European Tour winner, Mark Brown, will be looking to go one better.
Other top touring Kiwis who will play this year include David Smail, Ryan Fox, Gareth Paddison, Josh Geary, Brad Shilton and Richard Lee, as well as Perth-based Michael Long.
Throw in Phil Tataurangi, who continues to ply his trade at home during a self-imposed hiatus from the American tournament scene, and Australian Peter Fowler, who many deem to be an honorary Kiwi having lived in Auckland for two decades, and there is reason to be optimistic of a winner from New Zealand.