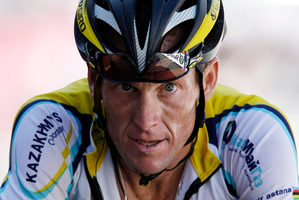 The International Cycling Union (UCI) announced today it had disbanded the commission it had set up to investigate any alleged involvement by the global governing body in the Lance Armstrong doping scandal.
The UCI said it had pulled the plug on the commission, which only met in public for the first time last week, because both the World Anti-Doping Agency (WADA) and the United States Doping Agency (USADA) had refused to co-operate with its inquiries and thus any report it produced would be dismissed "as not being complete or credible".
UCI president Pat McQuaid said they had been left with little choice but to disband the three-member commision consisting of chairman Philip Otton, a former judge in England's Court of Appeal, British Paralympic champion Tanni Grey-Thompson and Australian lawyer Malcolm Holmes.
"As I said last Friday, we have listened carefully to the views of WADA, USADA, and cycling stakeholders and have decided that a truth and reconciliation process is the best way to examine the culture of doping in cycling in the past and to clear the air so that cycling can move forward," McQuaid explained in a statement.
"Over the weekend I spoke to John Fahey, president of WADA. He confirmed WADA's willingness to help the UCI establish a truth and reconciliation commission (TRC), as well as saying that WADA had no confidence in the existing independent commission process."
It was an investigation by USADA that led to Armstrong being stripped of his seven Tour de France titles and comments in their decision regarding the UCI's alleged complicity in his drug-taking that led cycling chiefs to set up the independent commission.
- AFP