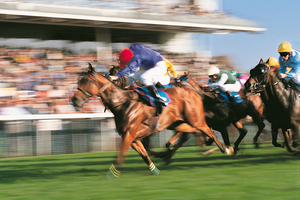 Alexandra Park beckons for popular Southland pacer Franco Ledger after his sizzling win in the group three Invercargill Cup on Saturday.
The Falcon Seelster 5-year-old's booming run down the outside of the Ascot Park track bore many similarities to the run of Terror To Love in the Northern Southland Cup earlier this month, as Franco Ledger swept by River Black and Glencoe VC to win by three-quarters of a length.
After starting off a handicap of 30m, trainer-driver Hamish Hunter had a few nervous moments as River Black set a strong pace, stringing the field out at various stages throughout the 3200m.
"They had us well stretched out, especially when Mark Jones [driving Ohoka Texas] went around with 1000m to go," Hunter said.
"Going down the back, I thought if we get a placing here, we're doing extremely well. He felt quite good at the 600m up to the 400m, but there was still a long way to go.
"Turning for home, I thought we might get third if some of these others start to tire, but he dug really deep when asked the big question."
Franco Ledger's corrected time of 3:58.7 for the 3200m broke the track record, and was just 0.1 seconds off the Southland record held by Lord Forbes. All the ingredients were there for fast times, with a warm day and a well-groomed track setting Juneamy Castleton up for a 3-year-old fillies' 2700m standing start track record time of 3:32.4 in the 0-1 win trot earlier in the day.
Winning the group three event rated highly for Hunter, who last won the race in 1985 with Malaz.
"It was a great thrill to win being a local cup, with the people who have supported you all the way."
Hunter will now look at the options in Auckland, with the $250,000 Auckland Cup on March 8 the first major target.
'We'll miss the Interdoms, but everything else we'll have a crack at," Hunter said. "Then you've got the Harness Jewels [June 1 at Ashburton] after that - so there's probably enough on over the next three months."