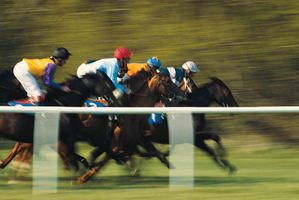 Jason Collett heads home to New Zealand for a short break after an eventful couple of days, which have brought a careless riding suspension and a winning double.
The 21-year-old has cemented himself in the top 10 Sydney jockeys this season but says a run of suspensions are not helping his cause.
After a stint with Chris Waller in 2011, Collett spent most of last season in New Zealand where he won the apprentices' title.
Since coming out of his apprenticeship and moving permanently to Sydney, Collett has received support from Waller, for whom he rode Thumbtacks to win at Warwick Farm, and Joe Pride who legged him on Earnest Ernest before his victory.
However, a suspension at Canterbury on Friday night will keep him out for six meetings after next Saturday.
"I'm going home on Sunday just for a few days to recharge my batteries," Collett said on Saturday.
"I'd already planned the trip but I might have planned it better.
"I've had a few suspensions and that isn't helping me. I'm from the country and I didn't enjoy Sydney too much when I first came here but I do now.
"Hopefully, I can come back and keep things going."
Collett rides work one day a week at Warwick Farm but Earnest Ernest is not one of the horses he jumps on.
"My trackwork rider Johnny is the only one that can ride him," Pride said. "He's dumped a lot of riders.
"I can't work him out but he's got plenty of talent on his day."
Earnest Ernest ($5.50) showed his liking for his home track when he reeled in the field to win the tab.com.au Handicap (1200m) by a length from Norma Betty's Boy ($26).
Meanwhile, Corey Brown has been reminded of his professional responsibilities after weighing in 1.2kg overweight on Kristy Lee who finished in a dead-heat for third.
Stewards told Brown it was the difference between the filly claiming third prize outright in her 1200m race.
Instead, she shared the purse with Servante and a suspended Brown will miss Expressway Stakes day on February 9, the first day of the Sydney autumn carnival.
- AAP