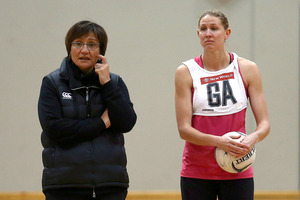 The long-standing duopoly in international netball is under threat and Netball New Zealand admit they are "strategically concerned" following a huge cash injection into the English game.
Since 1983, the Ferns and Diamonds have finished in the top two of every world championship and Commonwealth Games tournament (except for Irene van Dyk's South Africa in 1995), with other nations always some distance back.
England Netball received £25.3 million ($47.6 million) from Sport England as they aim to build on the momentum of last year's Olympics.
It should put England - who already have playing numbers to rival New Zealand's - in a position to challenge the Silver Ferns and close the gap. They have already started to do so - winning a series against Australia for the first time this week after taking the first two tests 58-53 and 51-49, with the third test played overnight.
"We knew the funding was coming; it was a surprise to see that level and a little hard to comprehend," says Netball New Zealand CEO Raelene Castle. "It is roughly equivalent to the entire Sport New Zealand budget, which is quite staggering. It will definitely grow the sport there and lift the profile. It is a massive competitive advantage - so there are definitely some risks for us."
Silver Ferns coach Waimarama Taumaunu says: "I have always regarded them as a sleeping giant of netball."
Taumaunu was England's national performance director between 1998 and 2003 and assistant coach at the 2003 world championships.
"In terms of player numbers, they have the best base of any nation, bigger than us or Australia. [The funding] could be a real threat for us but overall, that is a good thing; it's great for the sport," said Taumaunu.
Netball NZ is also wary of losing coaches to the Northern Hemisphere, with substantial packages expected to be offered to the best Australasian coaches to relocate.
"It wouldn't be a new thing," says Castle, who points out that Taumaunu and former NZ coach Lyn Gunson (Parker) spent long periods in the UK, "but we have to be worried. Just like in other sports, professional coaches will make the most of whatever options are out there.
"From a New Zealand point of view, we have to hope - and we remain confident - that working in the Ferns set-up will remain the ultimate ambition for our coaches and keep our best talent in this country."
Despite its (relatively) low profile, netball in England has made substantial gains. Playing numbers have quadrupled since 2009, with much of that growth off the back of a grant of around £19 million ($35.7 million) which meant they could employ 90 new coaches.
The latest grant is earmarked for grassroots netball but a good administrator can always find ways to funnel some of it into high performance.
The transformation won't happen instantly - though England's two wins over Australia last week were just their third and fourth ever over the Diamonds - but should be pronounced.
"England have always had the players - they produce great athletes," says Castle. "Where they perhaps have fallen down in the past has been in systems and structures. If they get those in place, we have to be worried - absolutely they will be a threat.
"I like to think that the ANZ Championship provides a level of competition head and shoulders above that of anywhere else and hopefully that keeps us ahead of the game."
England will look forward to some 'home' success at the 2014 Commonwealth Games in Glasgow but are targeting a top two finish at the 2019 world championships, which are almost certain to be held in England.