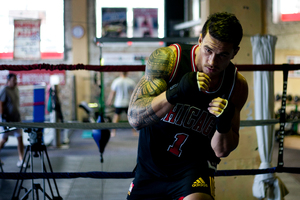 He has left for Sydney and the NRL but rugby remains firmly in the thoughts of Sonny Bill Williams.
His choice of apparel at yesterday's training session in Auckland for his fight against South African Francois Botha - his old Chiefs shorts - quickly indicated that and he expanded on a theme when saying how the February 8 fight in Brisbane was significant for him.
"What makes it more special is the whole All Blacks v Springboks element," he said.
The All Blacks reference could quicken the pulse of those in the New Zealand Rugby Union who would dearly love the 27-year-old to be available again for the next World Cup, but in the meantime Williams is focusing on the fight.
He hasn't trained with the Roosters yet, saying he will look at that after his bout against a man who has been in the ring with several world champions.
Despite being 44, Botha, also known as the White Buffalo, is a step up in class for New Zealand heavyweight champion Williams. At the very least he should be able to take a punch, which hasn't always been the case with Williams' opponents.
Botha's record is 48 wins, eight losses, three draws, compared with the undefeated Williams' five wins.
"His experience speaks for itself," said Williams, who is in Auckland seeing family.
"For me in a boxing sense I need to take fights like this to move up.
"It's definitely going to put my name out there internationally if I win because it's for a WBA international belt."
The fight was originally scheduled for last year but was put back due to Williams' chest injury suffered while playing for his Panasonic club in Japan. APNZ