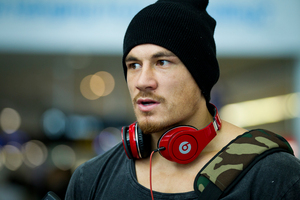 Sonny Bill Williams has flown into Auckland with two things on his mind - his mum and a 115kg South African threatening violence.
Williams arrived at Auckland International Airport yesterday afternoon looking relaxed after a flight from Tokyo, having completed a stint playing for Japanese club rugby side Panasonic Wild Knights.
He told the Herald he was happy to be home to see his family, but also prepare for his next boxing match against South African Francois Botha.
Botha, a 44-year-old four-time world title challenger nicknamed the "White Buffalo", will meet Williams in the ring in Brisbane on February 8.
Williams said he was unsure how long he would be in New Zealand.
"It depends, we're just trying to sort out some sparring opponents at the moment, so we'll see how that goes.
"But at this stage, I'm just looking forward to seeing my old lady, you know. It's been a while."
After the fight he will join his Sydney Roosters teammates in preparation for his much-anticipated return to the NRL.
Roosters coach Trent Robinson has earmarked his side's pre-season trial match against Wests Tigers on February 23 as Williams' return to rugby league.
Despite tearing a pectoral muscle during his stint in Japan - causing his boxing match to be moved back - Williams said he would miss the country and his teammates there.
He said he hoped to catch up with some of his past All Black and Chiefs teammates while in New Zealand.
"But like I said, first things first - just go and see the old lady, see my sister and that.
"And then straight back into training, bro, I've got a big fight coming up."
Botha is expected to provide Williams, the New Zealand heavyweight title holder, with a much sterner test in the ring, and has been talking up his chances to South African media.
The winner will become the WBA international heavyweight champion.
"Sonny Bill's a master of the offload but the difference is that he offloads balls whereas I offload punches," the ageing boxer said last week.
"I'm not a rugby player but I love rugby, and once this bout is over, rugby fans will be relieved that Williams will not return to the ring."