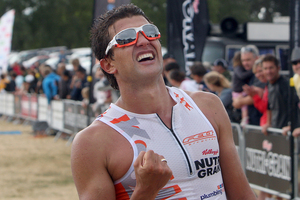 2008 world champion Terenzo Bozzone has been forced out of tomorrow's inaugural Ironman 70.3 Auckland race.
The North Harbour-based athlete has not recovered sufficiently from injuries sustained after crashing during his final training ride in Albany on Thursday.
The 27-year-old said he is devastated to withdraw from the Asia Pacific Championship event in his hometown.
"It was the only decision I could make but it was so hard," Bozzone said. "This was my opportunity to compete in a major race here in my hometown in front of friends, family and supporters."
Bozzone crashed when a driver opened a car door in to his path while cycling, crashing heavily.
"I have a lot of bumps and bruises. My hip is really sore and while I've had lots of treatment it is just too sore to compete. Also, my bike is damaged and I can't ride it and we don't have another one in this country."
Bozzone said he was greatly looking forward to the race.
"The race meant so much to me. I was actually out riding the northern part of the course in Albany on the same roads where I had my very first duathlon race.
"I could have tried to start but honestly I would not have got far, and I would stand the danger of doing something more serious that would affect my chances with Ironman New Zealand which is only seven weeks away."
The race offers a prize purse of $90,000 for the professionals, as well as 50 qualifying spots for the Ironman 70.3 World Championships in Las Vegas and 30 spots for the Ironman World Championships in Hawaii.
The rest of the field are all in place and have until 5pm to place their bikes in transition ahead of the race, which starts at 6.30am tomorrow. The winner is expected by 10.15am and the final participant by 3pm.
- APNZ