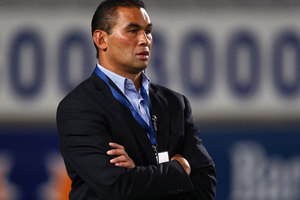 Former Blues coach Pat Lam will link up with Irish club Connacht early as he seeks to help the club enjoy a smooth transition from the outgoing Eric Elwood.
Lam, sacked from the struggling Blues last season, last week signed a two-year-contract as the Galway-based club's head coach for next season.
The 44-year-old will join up with the club in April and work with Elwood before taking full control of the team in June.
"Pat's early arrival will ensure that there is an opportunity for him to work alongside Eric and the coaching staff, get to know the players and facilitate an effective handover and transition," chief executive Tom Sears told the Irish Times.
"It will also mean that he can begin planning the crucial pre-season period and make the best possible start next season. Already Pat is being involved in discussions regarding player recruitment and planning for next season and beyond and we are making good progress on that front."
The Connacht job will be Lam's first job following his departure from the Blues, although he has worked with Samoa in an advisory capacity.
He said at the time of his signing he was delighted to have the opportunity and was looking forward to building on the work of Elwood.
"My family and I are truly blessed to have another opportunity to be part of a new community and country and we are looking forward to the exciting challenge ahead at Connacht," Lam said.
APNZ ks
- APNZ