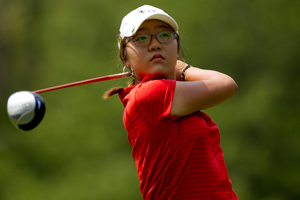 There is only one Kiwi woman left in contention at the Australian Amateur Championship in Melbourne - and it is not the one that everyone expected.
World No 1 amateur Lydia Ko was defeated 2 and 1 by in-form local Jo Charlton yesterday afternoon in round three of the match play.
The 15-year-old, who earned the No 2 seed after qualifying, was looking to become the first golfer to successfully defend the Australian Amateur title since Michelle Ellis did in 1997.
But the tournament favourite was undone by a superb putting performance from Charlton, who holed a 30 foot snaking putt on the 14th to take a 2 up advantage.
Ko immediately fought her way back into the match with a birdie on the 15th hole, but then lost the 16th hole before finding a greenside bunker on the 17th to end the match.
It was a disappointing loss for Ko but upsets are common in match play, as shown by round one where three of the top seeds were ousted.
Ko will now begin preparing for the NSW Open, where she is also the defending champion after making international headlines in 2012 by becoming the youngest winner of a professional golf event.
Kiwi golf fans will now turn their attention to Wellington golfer Julianne Alvarez, who began as the 19th seed and has advanced to the quarter-finals at the Woodlands Golf Club.
The 16-year-old, who won her first national title last year at the Harewood Open on the Charles Tour, played great golf in round three to always be in control of the match against Japanese golfer Asuka Kashiwabara
Alvarez put the pressure on her opponent with accuracy off the tee and solid iron shots to the greens. She was 3 up early and held onto her lead to win 3 and 2 to advance to a match-up against South Australian Jenny Lee today.
Meanwhile, in the men's championship, New Zealand has two players still in contention to end a 20-year drought at the Australian Amateur.
Auckland golfer Sam An, who finished as fourth seed in qualifying, booked his place with a 2 up win over Ryan Ruffels of Victoria, while Blair Riordan also advanced in another close battle by beating Western Australian Michael Dennis at the 20th hole.
The 18-year-old An is up against Dale Brandt-Richards of New South Wales and Riordan is playing Queenslander Damien Jordan in the final eight matches.
The Kiwis are looking to become the first New Zealander to hold aloft the trophy since Michael Campbell won at the Royal Adelaide Golf Club in 1992.
- APNZ