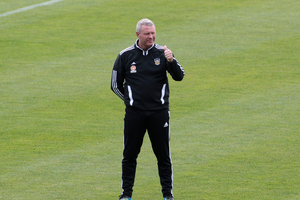 All Whites coach Ricki Herbert is still no clearer on the likely availability of captain Ryan Nelsen for upcoming Oceania World Cup qualifiers against New Caledonia.
The pair spoke this week for the first time since Nelsen's managerial role with MLS Club Toronto was revealed but Herbert said he had not pressured Nelsen on his availability.
Herbert will, however, include Nelsen in the 22 or 23-strong squad he expects to name next week for the home and away matches in March. That will later be trimmed to 18.
"It is a process Ryan has to go through," said Herbert. "I don't think that it is necessarily the case of his international career being over. He is still a member of a Premier League club and until his position with QPR is clear we can only wait and see what his future will be.
"I haven't had a specific conversation about the New Caledonia games. We can wait until the picture becomes clearer [with his club] and take it from there.
Who knows, Andrew Durante might be available to us by then. It is all still up in the air."
Of his thoughts on how Nelsen will fare as a coach, Herbert said it was a "million dollar question".
"It is an interesting scenario. The two roles are so vastly different. In switching from being a player to a coach there is a wide range of skills that are needed. To take over at a club which is at the bottom of the table you at least have the chance to influence anything they might do.
"But I had had seven years coaching before I took over the New Zealand Knights who were in the same position when I arrived and it still was not easy."