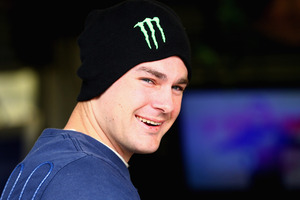 Kiwi driver Shane van Gisbergen has cut short his brief break from motorsport by confirming his intention to race in the V8SuperTourer Championship this year.
Van Gisbergen shocked motorsport fans on both sides of the Tasman last month by quitting the Australian V8 Supercars series in which he had driven since the age of 17.
The 23-year-old, regarded as one of the rising stars of the series, left Stone Brothers Racing saying he wanted to have "some fun and do different stuff".
But van Gisbergen did not last long away from the sport and will now race in Corkery Motorsport's Ford Falcon V8ST in the New Zealand-based touring cars championship.
"I have kept an eye on the series in its first year and came along to a couple of the races last year, as well as testing the car a couple of times, and it's a series which really excites me," van Gisbergen said. "There's a close field of competitive drivers in evenly matched cars and I'm looking forward to getting into the mix and hopefully getting some good results."
Van Gisbergen will take on New Zealand's top V8 drivers in the series, which begins at Hampton Downs over the weekend of February 16 and 17, including Greg Murphy, John McIntyre, Craig Baird and Andy Booth.
He also spent many of his early racing years competing against current SuperTourer drivers such as Andrew Waite and Simon Evans in go-karts, and he is looking forward to getting out on the track against some of his old mates.
"I'll be taking no prisoners on the track, though."
V8 SuperTourers managing director Mark Petch was delighted to have a driver of van Gisbergen's calibre join the series.
"It's fantastic to have yet another champion join the V8 SuperTourer Series, as we move forward to official recognition as the country's premier touring car championship," he said. "Shane is really going to put the cat among the pigeons, that's for sure."
The young driver already achieved that late last year, walking away from a lucrative career across the Tasman to pursue other interests. Van Gisbergen dispelled talk he had retired from motorsport and instead said he simply intended to take a break.
"It's been worse because people have put the word retirement out there," he told TV3. "I never said retirement. That means final. I just said I was leaving for a bit. That could be a week, a year, who cares?"
He said he was looking forward to getting back to the basics in the SuperTourers series, rather than get caught up in the politics which plagued his experiences in the Supercars.
"We weren't happy last year," van Gisbergen said. "We had won races the year before and we didn't even really come close last year. And all the changes that were happening for this year just wasn't something to look forward to."
- APNZ