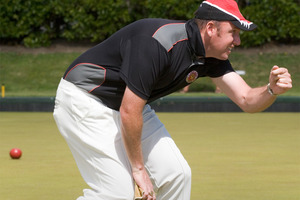 Former world bowls champion Richard Girvan is confident he will return to the top, despite being dropped from the New Zealand team this week.
After what proved to be a mixed campaign at the World Bowls championships in Adelaide in November, Girvan is the only player not to retain his place for the upcoming Trans-Tasman fixture in March.
Matt Gallop was unavailable for selection.
Girvan and his team narrowly failed to qualify for the quarter-finals in both disciplines, after missing out in the fours and pairs respectively.
Although Girvan, 39, was extremely disappointed to miss out on selection, having played every Trans-Tasman event since 2006 - he accepts his recent form is to blame for his departure.
"I received the call on Monday from Dave Edwards (national coach) and I was extremely disappointed to have missed out. It's (Trans-Tasman) a fantastic series to play in.
"The World Bowls was tough and I did struggle with form, but you step out as a team - one person doesn't win a world championship alone.
"It is still an experienced team they are sending to Auckland and I wish them all the best," he said.
However, the Australian based bowler, who has played more than 200 games for his country, insists he isn't finished yet.
"I'm certainly not done with yet. Missing the Trans-Tasman will give me time to get my game back on track and the New South Wales Pennant Season is not far away from starting either.
"For me, it's back to basics... sometimes when we strive to better, we lose sight of what got us there in the first place," Girvan said.
Girvan, who is also a member of Auckland's Onehunga Bowling Club, praised his family and the Nelson Bays Bowling Club (where he works), for their continued support around his commitment to bowl for New Zealand.
Meanwhile, former Black Jack and Girvan's New Zealand club mate Danny Delany has fought his way back into the team after an impressive showing in Taranaki, finishing runner-up to Dunedin's Shaun Scott in the national singles.
Delany, who missed contention for the five-strong World Bowls team, joins singles exponent Shannon McIlroy in the pairs and will line up alongside Tony Grantham, Andrew Kelly and Ali Forsyth in the fours.
Grantham, Kelly and Forsyth will contest the triples event in what should be a powerful trio.
But for Girvan, one of New Zealand's most experienced players, - it's back to the drawing board.
Despite his axing, he is remaining optimistic about the future - with his focus fixed firmly on the Commonwealth Games in Glasgow next year.
"At this stage a new squad hasn't been announced and I believe that will be announced in a few months," he said.
"I still feel I have a lot to contribute, looking forward to the Commonwealth Games in 2014, and I will be working hard to make sure I'm part of that.
"(For now) it's back to the basics, but I'll be back. The cream always rises to the top."
Girvan infamously won Gold at the World Bowls Championships in Christchurch in 2008, alongside Gary Lawson, Andrew Todd and Russell Meyer.
The Trans-Tasman fixture against Australia will be held at the Howick Bowling Club in March.