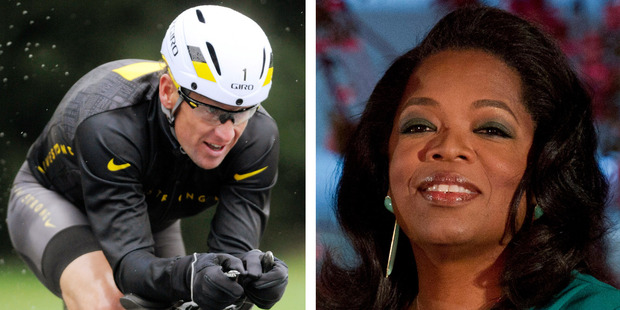 Lets get ready to rumble. Oprah versus Lance Armstrong is shaping up as the first big sporting battle of the year. Yeah right.
The infotainment conglomerate queen's already recorded interview with the fallen cyclist, shamed by drug cheat allegations that have finally stuck, will air on Friday and the build-up has been terrific.
Oprah Winfrey is so famous that she is known worldwide as Oprah, although having an unusual name like Oprah helps. Oprah is more than just a television figure. She is an industry, a mighty big one. She also has an army of fans, a big one, that will carry her aloft through any battle. She is always okay.
Oprah is loved and welcome in many homes, and Lance Armstrong has done his homework. What happens next in Lance's life will be a lesson in control, the same control he exerted over his cycling career.
Cancer is Armstrong's most famous condition, but the obsessive gene is probably his most influential one. Most cyclists might have that addictive bent, given that their sport involves piling pain upon pain, up hill upon hill. People who train now and then don't tend to make good cyclists.
Lance's grooming for the interview will have gone a long way beyond hair and makeup, PR and legal eagles at his side. He might have prepared on a couch with an Oprah stand-in. The revelation of Armstrong's "apology" to staff at Livestrong - the slightly mysterious cancer patient lobby/support outfit he started - fits nicely as an early step in a long game strategy to restore his image.
How will Lance climb this hill? A lot of famous American people who get in trouble discover or rediscover their religious side (although this tends to work better for Christians than Muslims). Good causes might be more Lance's style, and he could cycle across America to such ends.
What are his chances of redemption? Quite good, and America loves a good story. Even President/crook Richard Nixon managed a comeback of sorts, although his loner personality meant a partial restoration took some time. But he still kind of got there, considering the magnitude of his crimes. One of his famous henchmen, Chuck Colson, flourished using the Christianity technique. Bill Clinton roared back as only Bill Clinton can do. Martha Stewart is out of the clink and back on screen. Tiger is just about out of the woods. Charlie Sheen can't stop giving money away to needy people and every time he opens his wallet, the word gets out. The bottom line is that Lance Armstrong has a lot of other comeback cases to base his comeback on.
But will Oprah survive? Of course she will.
I found an old picture of Her TV Holiness smooching up to Lance before a previous interview. She is nestling into him like a proud mum. This photo did not bode well for a hard-hitting interview.
But Oprah has already got The Get, which is what celebrity journalism is all about. A mere interview has become a worldwide event, in which the cheating will be overwhelmed by analysis of how Lance sat in his chair, or dressed, or smiled. In some ways, it doesn't matter what Lance says, because a huge audience will be tuned in anyway. Ratings are assured but Oprah is leaving no stone unturned, tweeting away and being the subject of a network interview about her interview.
Oprah doesn't have a reputation as a hard-nosed interviewer anyway. A couple of tricky questions or asking the same tricky question twice when he doesn't give a straight answer will do the job. Then she can get on with the questions that reveal how much Lance Armstrong loves his family, pets and America.
The job is already done, and the substance of the interview incidental. Oprah has The Get, and Lance knows that millions will see him sitting in the same room as their TV Grand Diva. This is a victory in itself because Oprah is America's best friend, she interviews people on a subconscious basis that they are somehow her friends, and Oprah's friends can't be bad. Hers is the friendliest and most public of confessionals where some level of forgiveness is assured.
As for the critics, we'll say that the lying little so-and-so Lance Armstrong shied away from the full truth and Oprah didn't get close to extracting it. Any apologies or confessions are part of a PR strategy, and have only come when he had no other place to turn. We've taken that position already, and it will take something monumental to persuade us otherwise.