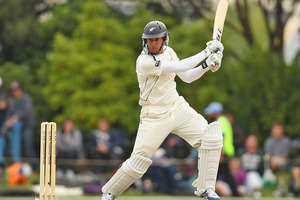 With New Zealand's test series against South Africa coming to a merciful and predictable end, Kris Shannon of APNZ speculates on how the Black Caps' batting order can be improved before world No 2 England begin a three-test tour in March.
Openers
Since Brendon McCullum joined Martin Guptill at the top of the order on the tour of India, the pair has yet to manage a half-century stand, averaging a shade under 18 for the first wicket in 12 innings.
Although McCullum has indicated a willingness to drop down the order to No 3 or No 5, he has in recent matches shown an ability to restrain his natural attacking instincts and knuckle down when needed. In his last three innings, McCullum fended off the fearsome South African fast bowling attack only to fall to spinner Robin Peterson.
Guptill, on the other hand, appears to have lost his touch in the longest form. Without a test ton since 2011 (his two test centuries came against Bangladesh and Zimbabwe), Guptill has endured to torrid time in the whites of late.
The six tests in which he has opened with McCullum have brought a personal average of 14, and even that meagre mark was boosted by a 48 in the lost cause that was the Black Caps' second innings in Port Elizabeth.
After his success in South Africa, it is tempting to promote BJ Watling back to the top order. It was where he began international life and, although he struggled, his fighting efforts against the Proteas would have been much better served opening the innings than batting with the tail.
The other option is Peter Fulton, who was scheduled to open in place of McCullum before he reinjured his knee in the warm-up game.
Middle order
Kane Williamson is currently an all-or-nothing batsman - with centuries last year against South Africa and Sri Lanka being complemented by a run of scores in the teens - but his quality must be persisted with at No 3.
Behind him is where the cavalry will hopefully come. Having enjoyed his `It's a Wonderful Life' fantasy and seen the terrors the team endure in his absence, Ross Taylor has confirmed his intention to return for the England series. He will be reinstated in his No 4 role, pushing Dean Brownlie down the order.
With Watling, Brownlie was the only batsman to emerge from the Republic with any respect, leading the team averages and accumulating New Zealand's only hundred. He will play against England but whether he bats behind Taylor depends on the fate of another cricketing pariah.
In an ideal world, Jesse Ryder would take mercy on the domestic bowling he has been plundering and get back where he belongs. His last test was New Zealand's famous victory in Hobart, but if he makes himself available against England it would allow Brownlie to complete a strong - on paper - top six.
Lower order
If Taylor and Ryder both return, it is hoped good things come in threes. Dan Vettori has refused to target the England tests for his comeback from injury but, if all goes well, he and his test average of 30 would fit quite nicely at No 7.
That leaves four bowlers to round out the tail, with the eternal hope either Doug Bracewell or Tim Southee (also returning from injury) eventually put it together with the bat and become something approaching an all-rounder. Trent Boult is an automatic selection with the ball, and has even shown the ability the flail away with the willow, leaving the last spot in the team a toss up between Neil Wagner, Chris Martin or perhaps Mitchell McClenaghan. Since New Zealand have shown they can never have too much strength with the bat, Neil Wagner's first class average of 20 seals his place.
Ideal New Zealand batting lineup: McCullum, Watling, Williamson, Taylor, Ryder, Brownlie, Vettori, Bracewell, Wagner, Southee, Boult.
- APNZ