The damage done to New Zealand cricket - with a team completely out of its depth - will take some time to heal.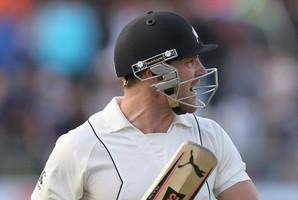 As New Zealand plunged towards another batting embarrassment, the St George's Park band launched into the South African national anthem Nkosi Sikelel' iAfrika.
But this wasn't an upbeat, celebratory tempo. It had a more mournful feel, and as the entire ground joined in, flags waving, it was a shivers-down-the-spine experience.
It seemed appropriate: it could have been sung for the lost soul of the New Zealand team who, for the second time in three innings in this series, found themselves completely out of their depth.
By stumps, at 47 for six, all that could be said was they'd gone past the 45 they produced in the first innings of the opening test at Cape Town. Small comfort.
Let's be clear: this South African team is outstanding across the board; New Zealand are weak, are missing four leading players for various reasons and, therefore, vulnerable. They have been put through a blender.
Which of the two calamitous batting efforts was worse? This one.
At Cape Town they were blown away by top-class bowling in favourable conditions by, primarily, Vernon Philander, backed by Dale Steyn and Morne Morkel.
New Zealand thought they were prepared for what lay ahead, but were nowhere near it.
This time they'd spent days preparing mentally and technically. They'd ramped up the bowling machines, been aggressive towards their own batsmen in the nets, trying to mimic what they would get from Steyn and his cohorts Morkel and Rory Kleinveldt.
It made little difference.
Steyn was magnificent, Morkel a steepling handful, while Kleinveldt showed that, in Philander's absence, South Africa weren't going to be left short on fast, threatening muscle.
The pitch is not great, but not 47-for-six poor. Yesterday's late-afternoon 24-over roasting could easily have been foreseen.
It was all so depressingly familiar.
Let's balance it a bit. Century-maker Faf du Plessis conceded that Steyn, with a bit of swing about and operating around 145km/h, was a handful for any line-up. The South African players had talked among themselves and were thankful that they weren't facing the world No1 yesterday.
The New Zealand team look a shell-shocked group. Captain Brendon McCullum is not his usual bouncy self; coach Mike Hesson had a rabbit-in-the-headlights look.
This group are being taken apart. They are so far off the South African pace as to be playing a different game.
Go back to the start of the test. New Zealand picked no frontline bowler whose natural gift is taking the ball away from the right-handers.
Doug Bracewell is primarily a bounce-and-seam bowler. There are two left-arm inswing bowlers, while debutant Colin Munro did a pretty steady job with his medium pace 120km/h outswingers. He got a good reward and doubtless bowled more overs - 18 - than he'd have imagined.
There's a left-arm spinner, Auckland's Bruce Martin, sitting in the dressing room. Offspinner Jeetan Patel should have been dispensed with after Cape Town.
Martin was in strong domestic form. With the ball turning significantly by lunch on the second day, he would at least have been an interesting proposition. Patel bowled just two maidens in 36.5 overs.
It was a poor selection and raised the thought that the selectors did not have faith in the 32-year-old Martin.
The damage done to New Zealand cricket in this series will take some time to heal.
Your view
Should New Zealand coach Mike Hesson stay or go?
Email: sportrac@nzherald.co.nz