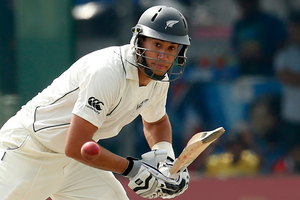 Much as they would prefer it to go away, the RT question keeps dogging the New Zealand camp.
Asked if he felt the late second-day tumble to 47 for six against South Africa might have been avoided if Taylor was in the fold, coach Mike Hesson gave a familiar response but also went in to bat for his players.
"I've said all along we'd be a far better side if Ross Taylor was here, without doubt," Hesson said.
"But we've also got some other fine batsmen who haven't quite been able to show in first three innings."
New Zealand's inability to cope with what they knew would be coming their way at St George's Park was the most disappointing aspect of their second below-par batting effort, according to Hesson.
"We thought we'd prepared well, but when we were put under pressure we weren't able to cope."
Hesson said it wasn't one particular part of the group that had to take responsibility for the two batting tumbles at Cape Town and Port Elizabeth.
"I think we all share the load. You certainly can't fault the work ethic. The players have put the work in. This test and the last we just haven't been up to it.
"All of us have to start to challenge whether we're doing the right things and whether we're challenging the players in the right way."
Asked if he had a message for fans at home, Hesson said that while South Africa are ranked No1 "for a reason" New Zealand are ranked No8 "for a reason".
"We're struggling but the players are working extremely hard. They know we're nowhere near where we need to be," he said.
"All we can say is the players are trying their very best and at the moment are being outclassed."